This cozy 15 minute Miso Dumpling Soup is perfect for a weeknight dinner. The warmth of the miso broth pairs perfectly with crispy-chewy vegetable dumplings to make a satisfying meal in just 15 minutes.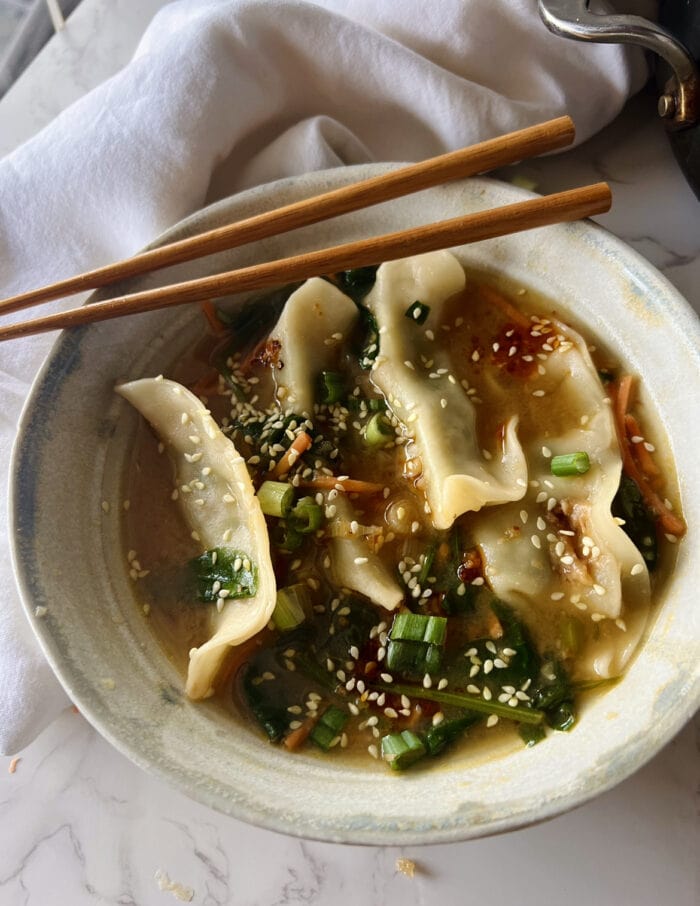 I remember when I first discovered Trader Joe's dumplings. I was back in college and wanted a simple meal that I could make quickly but was also delicious. Their veggie dumplings are so easy to pan sear and steam. Dip in a little soy sauce of gyoza sauce it is literal perfection! This meal uses frozen dumplings from Trader Joe's just like my days back in college and they are the perfect pair for this miso dumpling soup that has big, bold flavors!
I'm also in love with this Spicy Tofu Soup that is a warm and cozy meal just like this miso soup. Lemony White Bean Soup, Nourishing Lentil Barley Soup, Creamy Tomato Carrot Soup, Clear Vegetable Soup, and Tuscan Chickpea Soup are also delicious soup recipes you will love!
Mushroom lovers will go crazy for Savory Sage Mushroom Lentil Stew!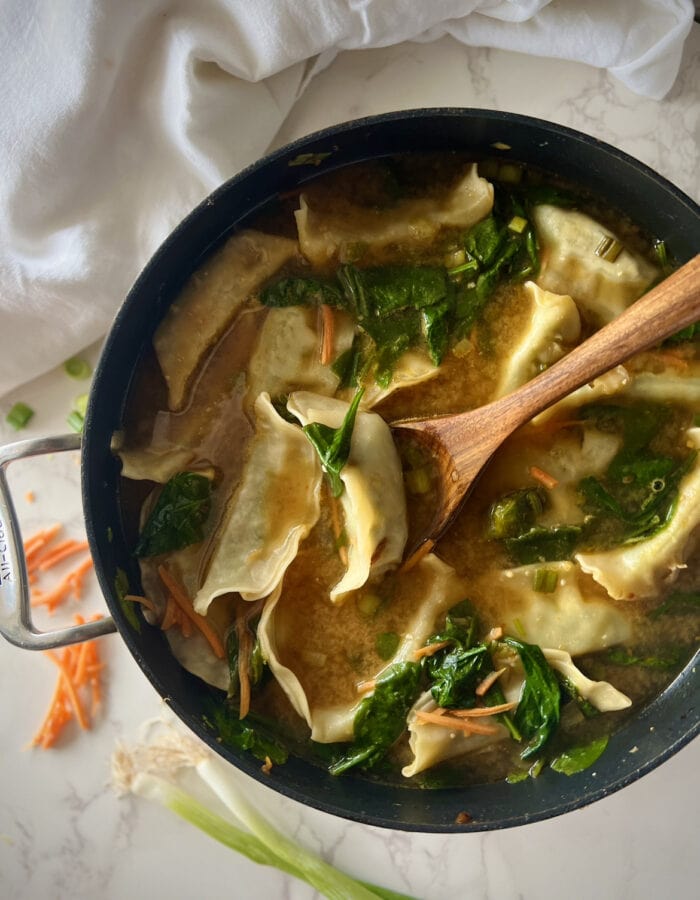 Ingredients:
Potstickers: I love Trader Joe's frozen veggie potstickers but you can use any you find at your grocery.
Sesame oil: Creates a delicious savory flavor for the soup
Minced Garlic: Adds depth of flavor to the broth
Minced Ginger: A great addition to this miso flavor
Miso Paste: I like white miso paste. Find in the refrigerator section of your grocery store. (For another delish recipe with miso try out my Miso Peanut Noodles!)
Diced green onion: Mix into the soup and also great to sprinkle on top
Vegetable broth: I like to get the low sodium kind. The miso paste already has a bit of salt in it so you likely don't need more.
Julienne Carrots
Spinach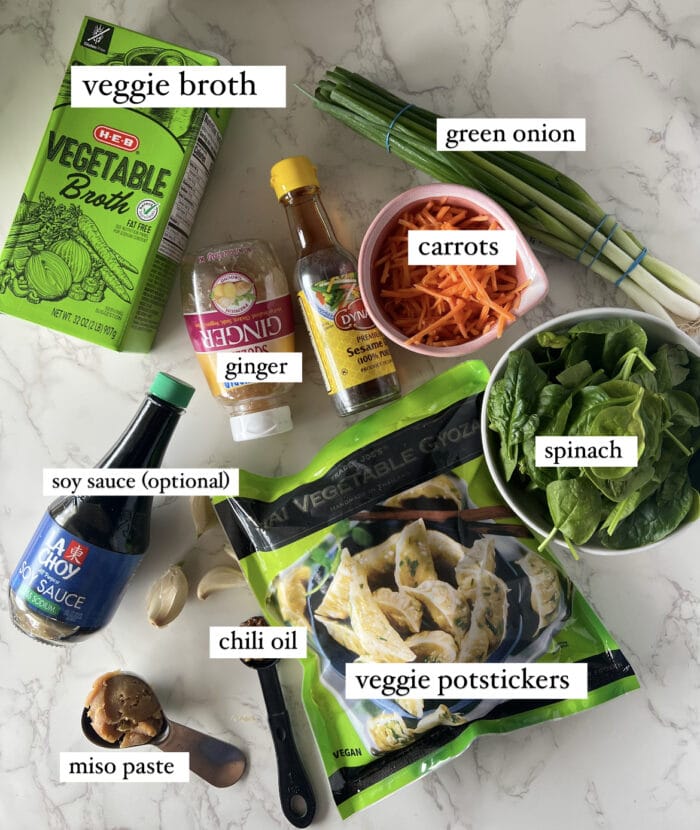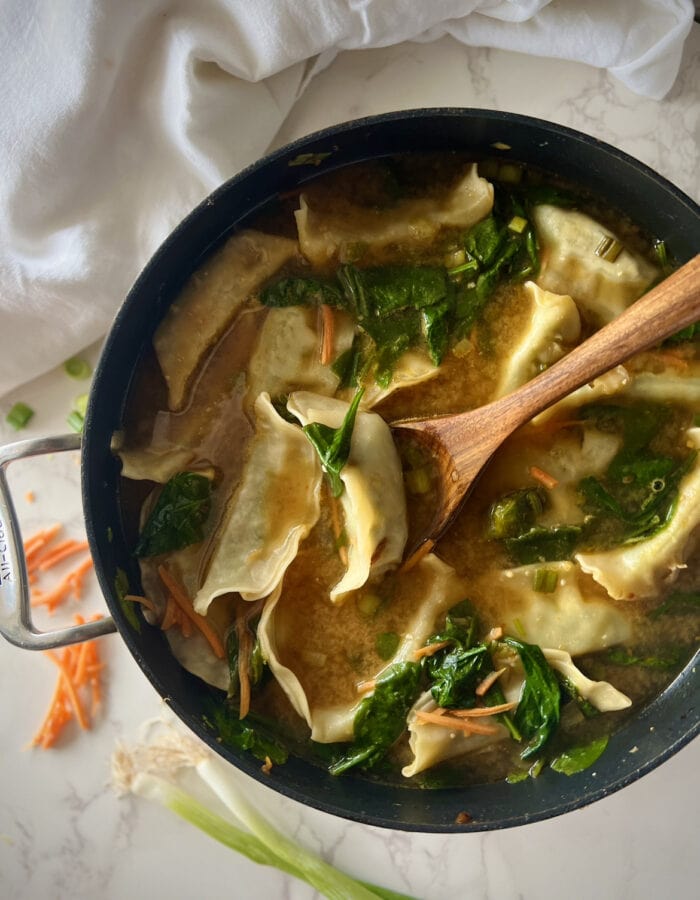 How to Make Miso Dumpling Soup
Start by heating your sesame oil in a large pan. Add in garlic.
Next add in chili oil, ginger, and green onion.
Pour in your dumpling and pan fry for a few minutes.
Finally add your broth and veggies to create a delicious miso ginger broth and boil for a few minutes until dumplings are cooked.
Top with sesame seeds, more green onion, and/or more chili oil.
FAQ
What is miso paste?
Miso paste made from fermented soybean and salt. It is perfect for Asian cooking as it provides a savory "umami" flavor. It is often found in the refrigerated section of your grocery store and is usually found near tofu.
Can I freeze this for meal prep?
I would not recommend it for this meal. The dumplings will likely be mushy if frozen and then reheated. Enjoy this soup the day you make it.
Can I make my own dumplings?
Yes, you can! It won't be a 15 minute meal but it will probably be even more delicious. Try out my delicious chewy and crispy Edamame Dumplings.
What else can I add to this miso dumpling soup?
You can add in other vegetables such as bok choy or shiitake mushrooms and sprinkle with toasted sesame seeds for extra flavor.
Substitutions:
If you don't have a few ingredients, don't worry! Here are some substitutions for this miso dumpling soup.
Miso Paste: To substitute miso paste you can combine 1 tablespoon of tahini with 1 tablespoon of soy sauce to create a similar umami salty flavor. It will not be exactly like white miso paste but give it similar texture and flavor.
Vegetable Broth: You can make your own using Better than Bullion Garlic or Vegetarian paste. Just mix 1 teaspoon of the paste with 1 cup of water to create 1 cup of vegetable broth.
Spinach or Carrots: You can substitute for any other vegetables you have including mushrooms, bok choy, squash, peppers, and more!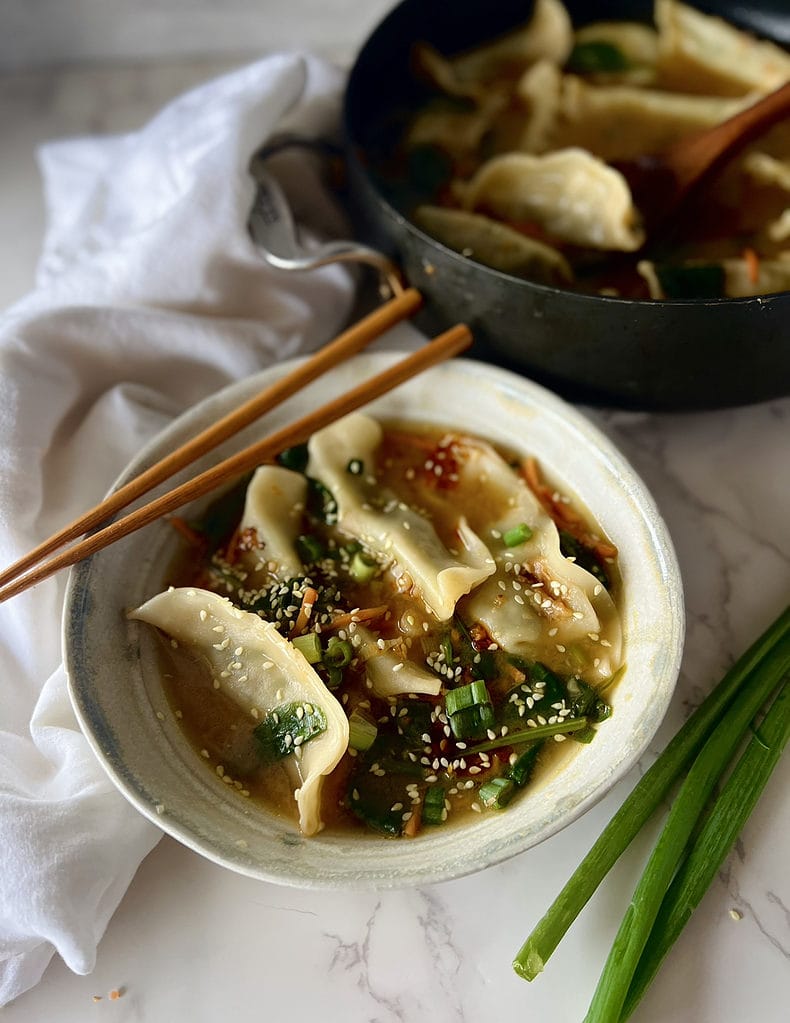 Wonton vs. Dumpling vs. Potsticker vs. Gyoza?
There are so many names for this delicious pieces of dough wrapped with filling and it changes based on where you are in the world. In Japan this dish would be called miso gyoza soup versus in China this may be called miso wonton soup. You can call it whatever you want.
Pair this soup with some delicious steamed veggies (find some great ideas in this list of vegan steamer recipes!)
Try this other delicious soup/stew recipes:
Other 15 Minute Meals:
♡ Did you love this recipe? ♡
Leave a ⭐️rating and ✏️comment below (I love to read them!) Tag us on Instagram with a photo or video of your dish 📸 @naturallieplantbased.
Subscribe for more delicious recipes!
▶︎Looking for more quick recipes? Check out this list of 43+ lazy vegan lunches and dinners!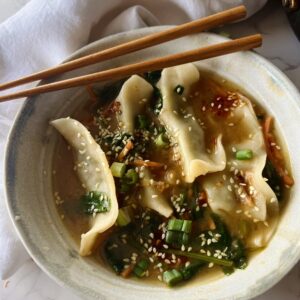 Miso Dumpling Soup (15 Minutes)
Chewy vegetable dumplings in a warm, savory miso broth
Ingredients
1

lb

frozen dumplings

(vegetable, I used Trader Joe's brand)

2

tablespoon

sesame oil

4

cloves

minced garlic

2

teaspoon

minced ginger

1

tablespoon

white miso paste*

1

teaspoon

chili oil

⅓

cup

diced green onion

(plus more for topping)

4

cup

vegetable broth

(low sodium)

1

cup

julienne carrots

Large

handful spinach

Optional toppings: more green onion, chili oil, sesame seeds, soy sauce (if you want it saltier)
Instructions
In a large pan or pot begin heating your sesame oil over medium heat. Add in minced garlic and ginger and cook for a few minutes.

Add in chili oil, miso paste, diced green onion. Stir and let cook for another minute. Miso paste will still be a little thick and will dissolve fully in broth.

Add in potstickers and pan fry for 2-3 minutes on each side until they are slightly browned and coated in the garlic onion mixture.

Add in vegetable broth, carrots, and spinach. Bring to boil for only 2 minutes then remove from heat. (DON'T OVERCOOK POTSTICKERS OR THEY WILL BECOME MUSHY).

Top individual soup with more green onion, chili oil, and/or sesame seeds. You can also add more soy sauce if you like it saltier.
Notes
The number of servings for this recipe depends how hungry you are! My husband and I together ate the whole thing but you may be able to have this as 4 servings depending on your appetite.
Miso paste is often found in the refrigerated section of your grocery store and is usually found near tofu.
Nutrition
Calories:
518
kcal
Carbohydrates:
73
g
Protein:
12
g
Fat:
22
g
Saturated Fat:
4
g
Polyunsaturated Fat:
4
g
Monounsaturated Fat:
5
g
Cholesterol:
7
mg
Sodium:
945
mg
Potassium:
201
mg
Fiber:
7
g
Sugar:
11
g
Vitamin A:
7244
IU
Vitamin C:
22
mg
Calcium:
87
mg
Iron:
3
mg