You can make your own bitchin' sauce recipe right at home. This creamy almond dip is a healthy, easy dip made with almonds, lemon and garlic and is perfect for a snack or appetizer.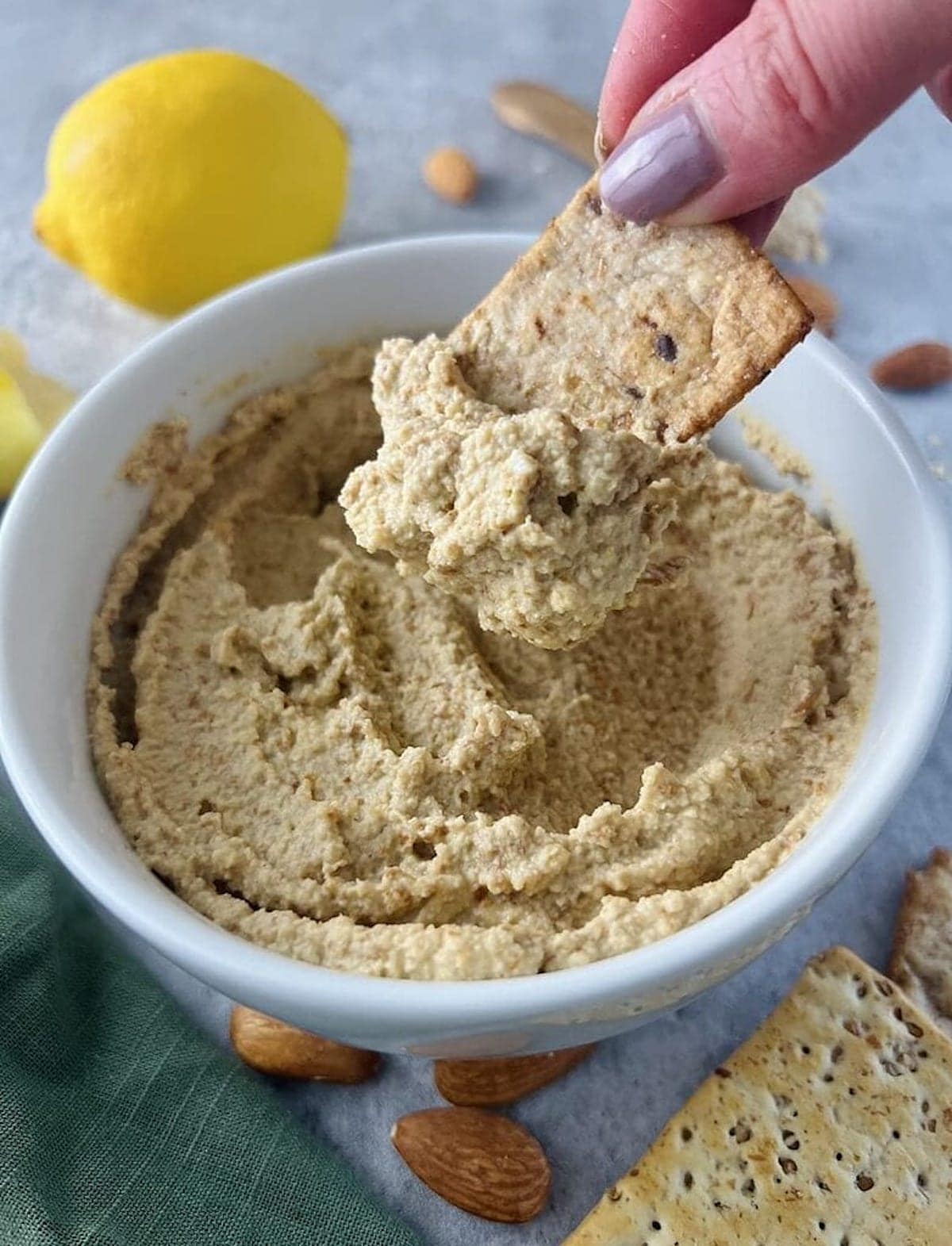 Do you love snacks? Dips are one of the best snacks because they are so versatile and can be eaten with veggies, chips, crackers, pretzels and more. This creamy almond dip will be one your new favorite ways to snack.
Try out these other delicious dips:
What is Bitchin' Sauce?
The original Bitchin' sauce is is a popular dip made from almonds, garlic, lemon and other spices. It is available at many groceries and health food stores (like Whole Foods). It can be a little pricey, so let's make an affordable homemade copycat of the original flavor that tastes just like it!
A great budget friendly homemade dip!
At my local grocery stores, Bitchin' Sauce can cost between $6-8 per tub. To make this almond dip recipe homemade it costs $4.32 to which is 72 cents per serving!
This is based on local grocery prices and may vary based on your location.
▶︎Looking for another delicious dip? Try out this Mango Avocado Salsa!
Ingredients
Raw Almonds: In this recipe we use raw almonds that are soaked for 2 hours. I have not made this with roasted and salted almonds. If you do, consider decreasing the salt in the recipe.
Grapeseed oil: We use expeller-pressed grapeseed oil because it has a neutral flavor and it is also used in the original Bitchin' Sauce recipe. You can substitute for olive oil but it might create a slight olive flavor to your dip.
Tamari: To keep. this recipe gluten free, we use tamari. If you are not gluten free you can use soy sauce.
Nutritional Yeast: This helps create a slight cheesy, salty flavor to your creamy almond dip. If you don't have this ingredient you can omit it and add a touch more soy sauce.
Garlic cloves: This adds a good balance to the tamari and nutritional yeast without an overpowering garlic flavor.
Spices: sea salt, onion powder
How to Make Creamy Almond Dip
Soak your almonds for 3-4 hours in water. Make sure almonds are fully submerged.
Drain almonds and place in high speed blender with other ingredients. You can also use a food processor but it's a little harder to achieve as smooth a dip. It's still tasty though!
Blend on high for 1-2 minutes, scraping sides, blending again. This process may take up to 5 minutes to achieve the texture you want. Add in additional 2-3 tablespoon of cold water if needed to obtain creamy texture. If using a food processor blend on the highest setting and scrape down the sides every minute.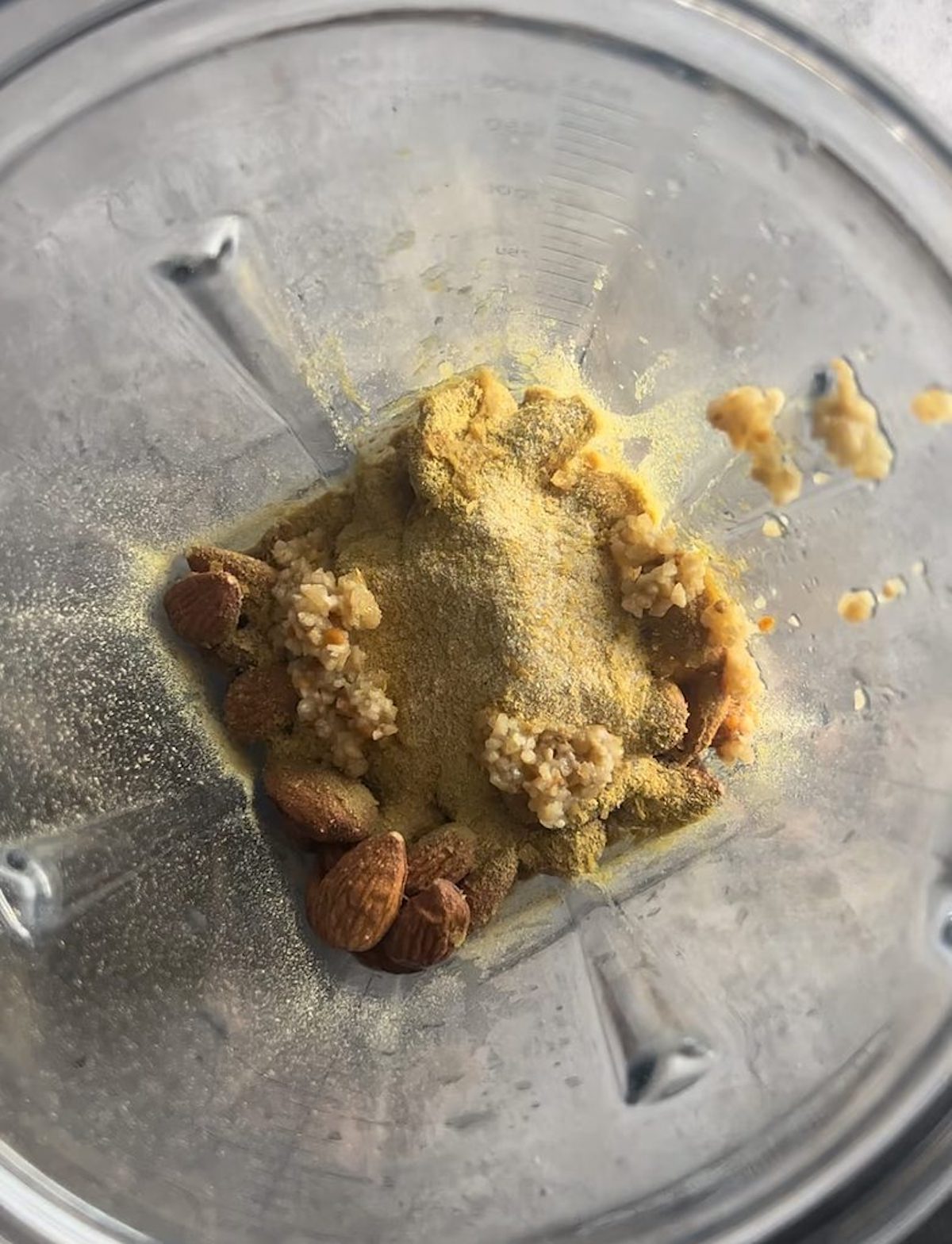 Equipment
Substitutions & Variations
Raw almonds: You can try roasted and salted almonds, but decrease the salt addition in this recipe.
Grapeseed oil: You can use extra virgin olive oil instead, but it's flavor may be slightly different. You can also make this oil-free if desired.
slightly different.
Tamari: Soy sauce or liquid aminos soy protein is a great substitute.
Nutritional Yeast: If you don't have nutritional yeast add an extra tablespoon of soy sauce or a teaspoon of miso paste.
Add in other nuts such as cashews or walnuts for a different flavor and texture.
Top with some diced green onions for more flavor
FAQ
Do I have to soak my almonds for almond dip?
I highly recommend soaking your almonds for this recipe. It helps them process in the high speed blender or food processor for a creamy flavor. If you don't have time to soak your almonds, consider putting them in hot water for 15 minutes. You may have to spend a little extra time blending in the processor to get the creamy texture you desire
Can I make this without a high speed blender?
You can make this recipe in a food processor but your dip may not be as creamy. This dip still tastes amazing even with a thicker texture!
What to eat with Creamy Almond Dip
There are lots of ways to enjoy this dip! One of my favorite ways is as a dip with fresh veggies or a sandwich spread for a loaded veggie sandwich.
Here are some great dipping options:
This almond dip also is a great spread for:
This dip is great at holiday gatherings or parties. I love to make different flavor variations such as basil or chipotle almond dip (see below for some other fun flavors!). This dip is also great for those with allergies to gluten or dairy and provides guests with vegan-friendly options.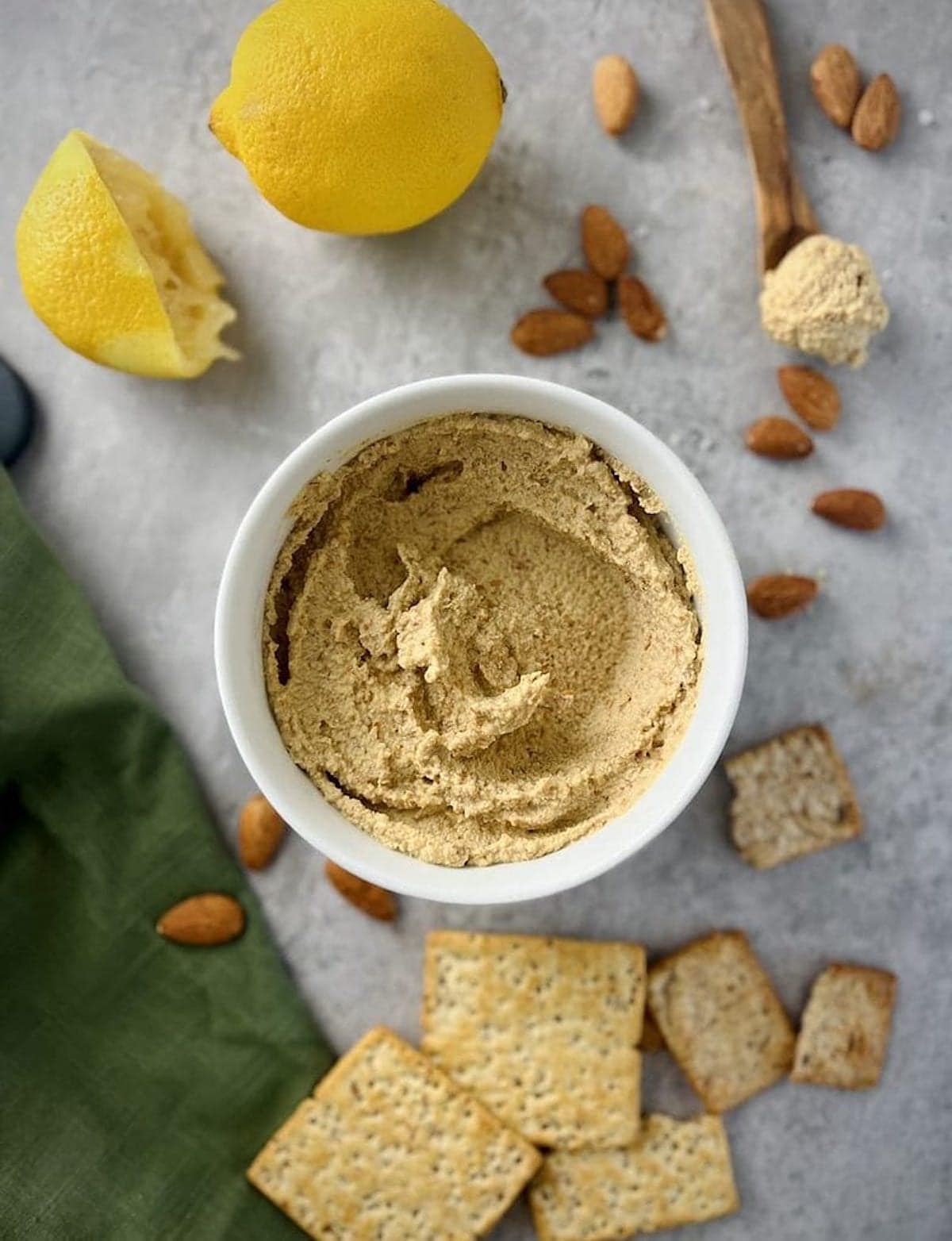 Storage
Store this almond dip in the fridge up to 7 days.
I do not recommend freezing this dip.
Flavor variations
Consider trying out some fun flavors for this almond dip by adding ingredients to the original recipe:
Basil Almond Dip: Add in some fresh basil for a "pesto" flavor.
Cilantro Chili Almond Dip : Add in some cilantro, chili powder, and jalopeño (to taste) for a spicy dip.
Chipotle Almond Dip: Add in chipotles with adobo, smoked paprika, vinegar and some tomato paste (to taste) for a flavorful chipotle dip.
Try out these other great dip recipes:
Check out Lemon & Dill Roasted Zucchini Dip that is a creamy and refreshing!
♡ Did you love this recipe? ♡
Leave a ⭐️rating and ✏️comment below (I love to read them!) Tag us on Instagram with a photo or video of your dish 📸 @naturallieplantbased.
Subscribe for more delicious recipes!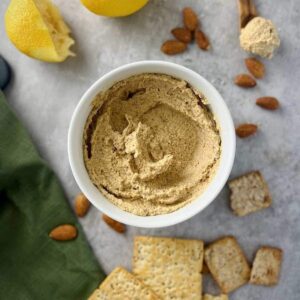 Creamy Almond Dip (Bitchin' Sauce Recipe)
A tasty easy snack that you will love! Creamy blended almonds with spices create a flavorful dip you will want to make over and over.
Ingredients
1

cup

raw almonds

soaked for 3-4 hours in hot water

1

tablespoon

grapeseed oil

or olive oil

1

medium lemon

juiced

1

teaspoon

lemon zest

⅓

cup

water plus 2-3 Tbsp

1

tablespoon

tamari

or soy sauce if not gluten-free

2

tablespoon

Nutritional yeast

2

cloves

minced garlic

½

teaspoon

onion powder

½

teaspoon

salt
Instructions
Start by soaking your almonds for 3-4 hours in water.

In a high speed blender add your drained almonds and the rest of your ingredients.

Blend for a minute, scrape down sides, and blend again. Repeat until smooth and creamy. Add in a 2-3 extra tablespoon of water of needed to attain texture and creaminess.

Serve with crackers, pretzels or veggies.
Notes
Tips:
If using a food processor, your blending process may take longer. Your dip may not be as smooth compared to using a high speed blender, but it will still be creamy with amazing flavor!
Don't skip soaking the almonds. This is what gives the dip its creamy texture.
Storage: Store this almond dip in the fridge up to 7 days.
What to eat with this dip:
Pretzels
Crackers
Chips
Pita chips or bread
Veggies
Use it as a spread:
Calorie count disclaimer: Naturallie Plant-Based offers nutritional information for recipes contained on this site. This information is provided as a courtesy and is an estimate only. This information comes from online calculators. Although Naturallie Plant-Based attempts to provide accurate nutritional information, these figures are only estimates.
Nutrition
Calories:
177
kcal
Carbohydrates:
9
g
Protein:
7
g
Fat:
14
g
Saturated Fat:
1
g
Polyunsaturated Fat:
5
g
Monounsaturated Fat:
8
g
Trans Fat:
0.003
g
Sodium:
362
mg
Potassium:
262
mg
Fiber:
4
g
Sugar:
2
g
Vitamin A:
4
IU
Vitamin C:
10
mg
Calcium:
72
mg
Iron:
1
mg