This easy, creamy whipped vegan fruit dip is the perfect snack or dessert paired with fresh fruit or other snacks such as pretzels, graham crackers, and more! The whipped cheesecake flavor is so tasty, just like your favorite dessert but lighter!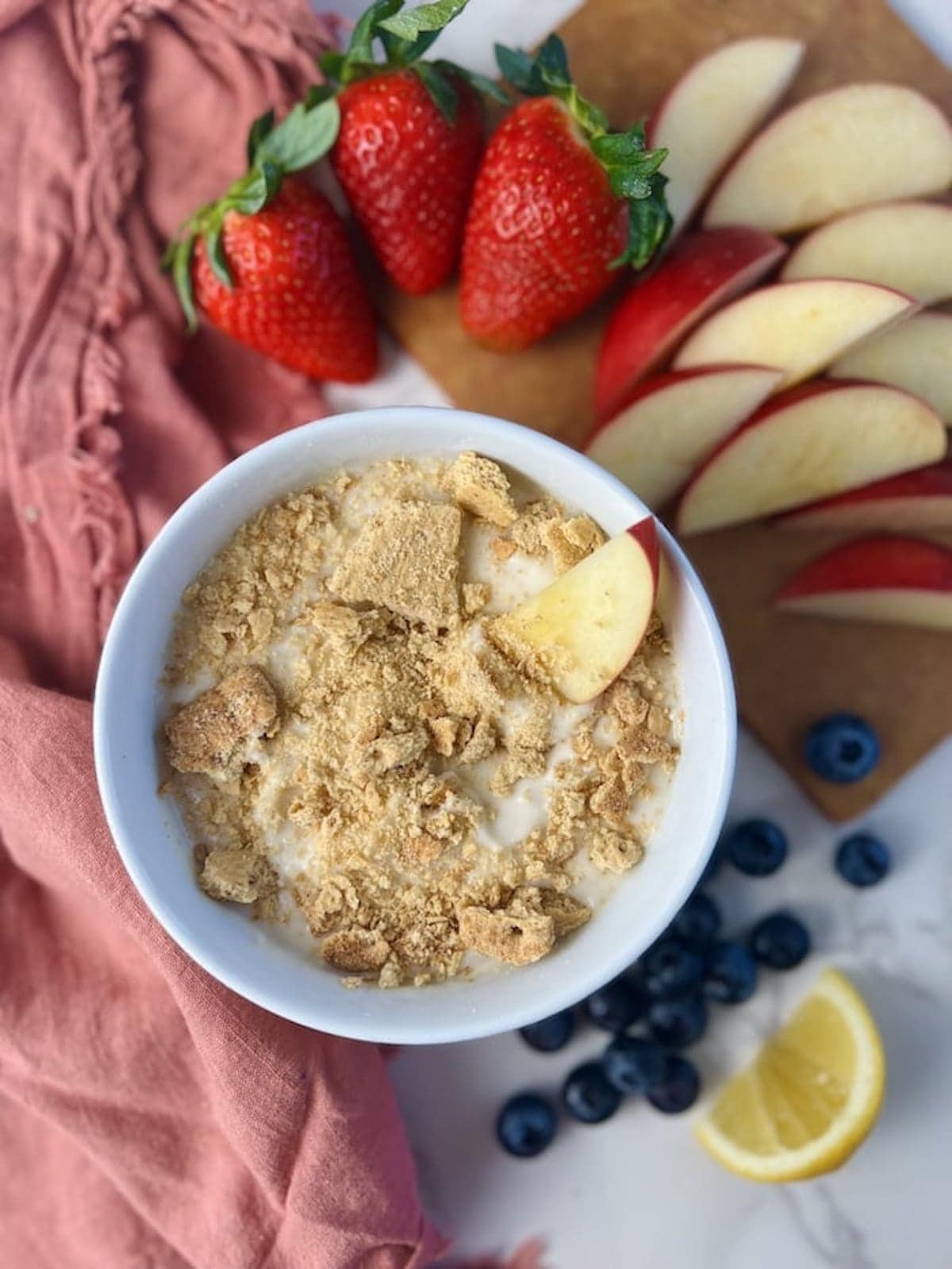 Jump to:
This whipped vegan fruit dip is perfect for your next spring or summer gathering! It's creamy, slightly sweet, light and will satisfy everyone's sweet tooth. Pair it with a large fruit platter or some other crunchy snacks. This is great for those who want a dairy-free fruit dip to satisfy dietary needs.
If you like other whipped dips try my Whipped Feta Dip with cranberry and pistachio.
Ingredients
Vegan Cream Cheese: I recommend Kite Hill for the best texture but there are lot of options on the market. Read below why I like Kite Hill more than the others.
Vegan Almond Yogurt (Plain): Almond milk yogurt provides a creaminess to the dip without adding a distinct almond taste. Some other vegan yogurts have strong flavors (such as coconut) which will overpower the dip.
Powdered sugar: Gives the cheesecake dip the perfect level of sweetness.
Vanilla Extract: Adds depth of flavor to make it taste like cheesecake.
Lemon Juice: Adds a bright and tangy flavor to the cheesecake, which can help to balance out the richness of the cream cheese. The acidity of the lemon juice can help to prevent the cheesecake from becoming too dense and heavy.
Pinch Salt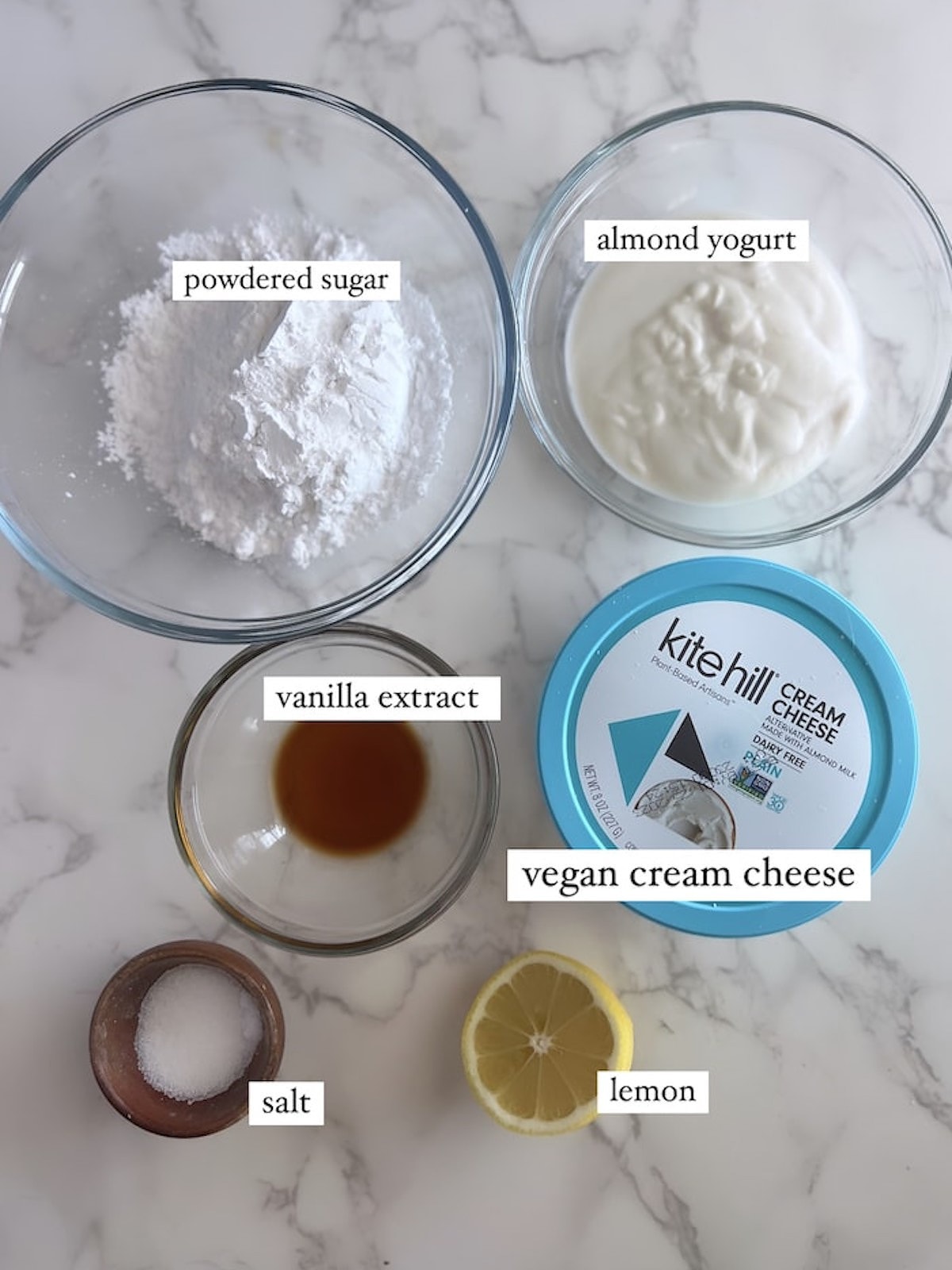 Substitutions & Variations
Don't have an ingredient? No problem!
Powdered sugar --> Create a mixture of ⅓ cup regular white sugar and 2 teaspoon cornstarch and add to a food processor or high speed blender. Blend until it resembles powdered sugar
Almond yogurt --> Try a soy yogurt (unsweetened)
Other flavors:
Create a chocolate fruit dip by adding in 1 tablespoon of cocoa powder and sprinkle with dark chocolate chips
Equipment
How to Serve This Dip
Once chilled, I love to sprinkle this sweet fruit dip with crushed graham crackers, date syrup (or vegan caramel), or crushed nuts (peanuts, almonds, walnuts).
Serve with your favorite fruits:
Apple slices (my favorite pairing!)
Fresh Strawberries
Blueberries
Grapes
Blackberries
And more!
My favorite apple is a crisp, sweet Honeycrisp sliced up and dipped in this creamy dip.
Other great pairings:
Pretzels
Graham crackers
Cookies
Vegan marshmallows
Chocolate covered pretzels
Whatever else your heart desires!
Create a snack board with this whipped cheesecake dip as the star! Surround with various fruits, pretzels, cookies, etc and it will be the hit of the party!
Also great for:
Valentine's Day
Mother's Day
BBQ
Birthdays
You can also pack this cheesecake dip in mini jars for on-the-go.
How else to use this dip:
Drizzle on ice cream
Dollop over oatmeal, french toast, or pancakes
Spread on rice cakes
Want some other great dips? Try out my Everything But the Bagel Hummus or Whipped Feta Dip!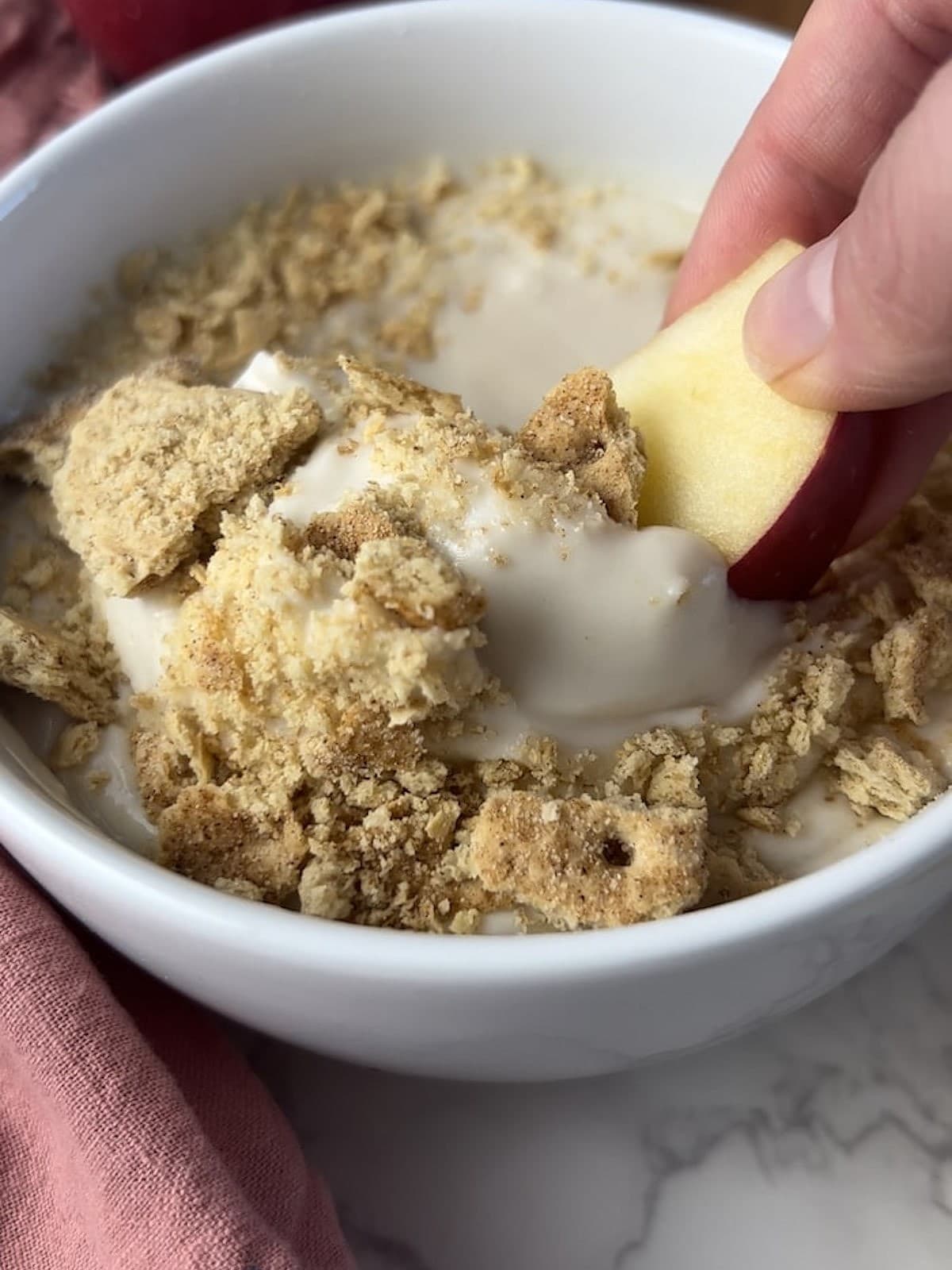 How to Store this Dip
Store vegan fruit dip in the fridge in a container or covered with plastic wrap for up to a week. I do not recommend freezing this dip because the vegan cream cheese texture will change a lot as it thaws. I highly recommend eating this fresh because it will have the best texture and flavor!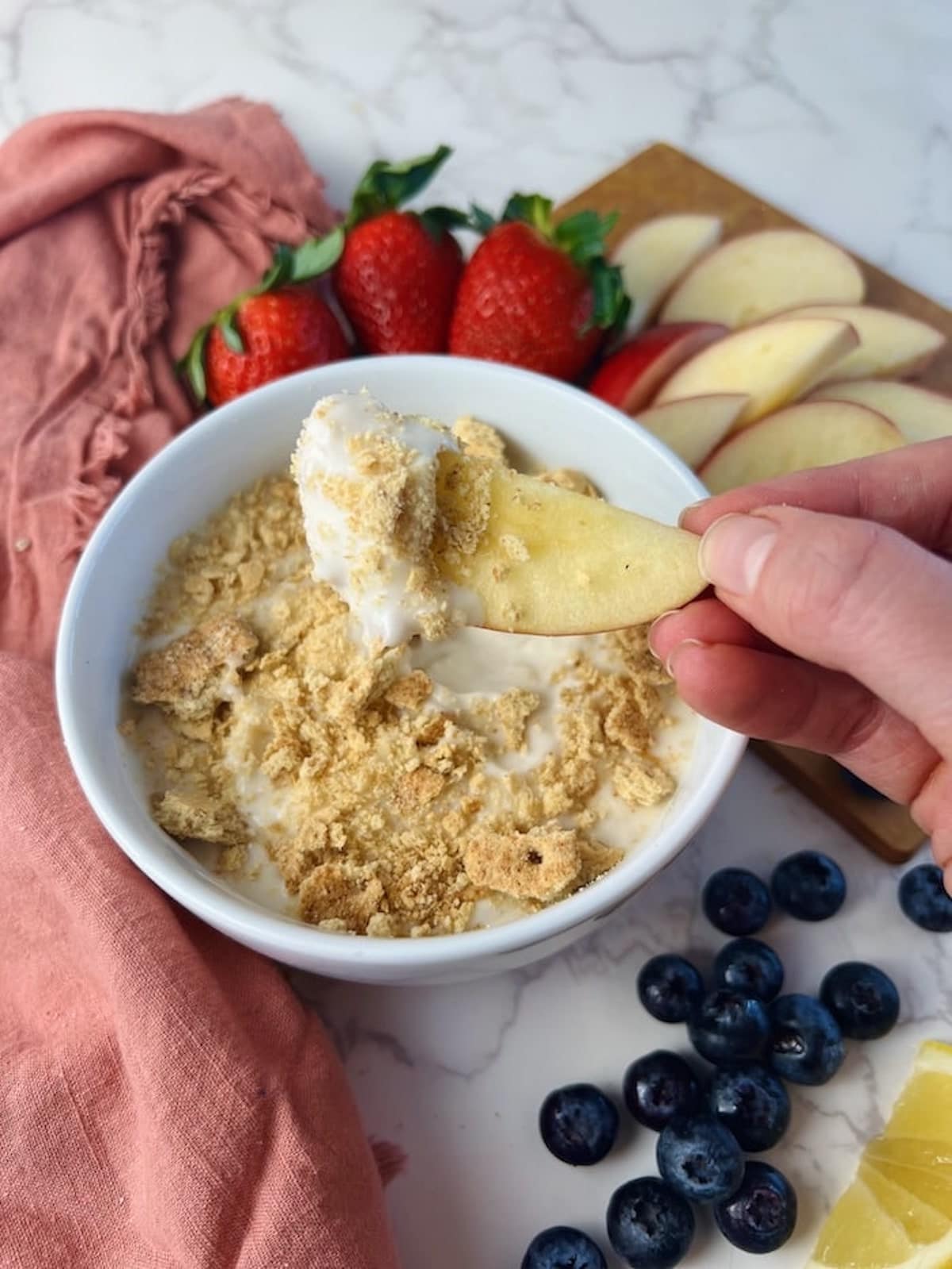 FAQ
How do I stop my apples from turning brown?
Dip the apple slices in lemon juice: The acidity of the lemon juice can help to slow down the browning process. Simply dip the apple slices in a bowl of lemon juice before serving.
Store the apple slices in an airtight container: This will help to prevent the apples from drying out and browning.
Store the apple slices in water: Place the apple slices in a bowl of cold water and add a few drops of lemon juice to the water. This will help to keep the apples hydrated and prevent them from turning brown.
It's worth noting that these methods may not completely prevent the apple slices from turning brown, but they should help to slow down the process.
Where can I find vegan cream cheese?
For this fruit dip you will need vegan cream cheese. I like to use one that has a base of nuts instead of coconut oil. For example, Kite Hill is made from almonds vs. Violife, Daiya, Follow Your Heart (etc) uses coconut oil. The texture of the dip is best with the nut-based cream cheese (and healthier) but it will still taste delicious if your vegan cream cheese is oil based. You can find this type of cream cheese at most health food stores.
If you like it less sweet, start off with only ½ cup of powdered sugar. You can always add more to taste after.
You can add other flavors to this vegan fruit dip such as: Peanut butter, Turtle (top with chopped pecans, chocolate chips, and vegan caramel), Cookies & Cream (Mix and top with some crushed Oreos), and any other flavor you desire! This is the fun part where you can be creative.
This is a great make-ahead recipe. You can whip up your fruit dip and store in the fridge. Cut up your fruit (use tips above to help decrease apple browning), and top with your graham crackers right before eating.
Other great dips
♡ Did you love this recipe? ♡
Leave a ⭐️rating and ✏️comment below (I love to read them!) Tag us on Instagram with a photo or video of your dish 📸 @naturallieplantbased.
Subscribe for more delicious recipes!
Looking for other delicious summer snacks and desserts? Try out Tanghulu, a fun dessert made from fresh fruit that is coated in a hardened sugar syrup. It's a popular street food in China and makes for a unique summer treat!
Whipped Vegan Fruit Dip (Cheesecake Dip)
This whipped vegan fruit dip is a sweet, creamy snack or dessert perfect for spring or summer served with your favorite fruits or crunchy snacks.
Ingredients
8

oz

vegan cream cheese (softened)

½

cup

vegan yogurt (Almond, unsweetened)

¾

cup

powdered sugar

1

teaspoon

vanilla extract

1

teaspoon

lemon juice

pinch

salt

Optional topping: Crushed graham crackers
Instructions
In a large bowl combine cream cheese, yogurt, and powdered sugar. With your hand mixer, blend for 3 minutes on medium speed until light. and fluffy.

Add in vanilla extract, lemon juice, and salt. Whip again for 1 minute.

Pour into a bowl and refrigerate for at least 1 hour before eating.

Sprinkle with crushed graham cracker, nuts, or whatever else you desire!
Notes
Tips:
Let your vegan cream cheese soften on the counter for 30 minutes before mixing.
If you like it less sweet, start off with only ½ cup of powdered sugar. You can always add more to taste after.
You can add other flavors to this vegan fruit dip such as: Peanut butter, Turtle (top with chopped pecans, chocolate chips, and vegan caramel), Cookies + Cream (Mix and top with some crushed Oreos), and any other flavor you desire! This is the fun part where you can be creative
Nutrition
Calories:
183
kcal
Carbohydrates:
21
g
Protein:
3
g
Fat:
11
g
Saturated Fat:
4
g
Sodium:
149
mg
Potassium:
2
mg
Fiber:
3
g
Sugar:
17
g
Vitamin A:
0.05
IU
Vitamin C:
3
mg
Calcium:
50
mg
Iron:
0.4
mg