Kick-start your day with this healthy and energizing Kale Beet Smoothie, packed with nutritious goodness, natural sweetness, and a vibrant color. This is great way to fuel your body and keep you energized through the morning!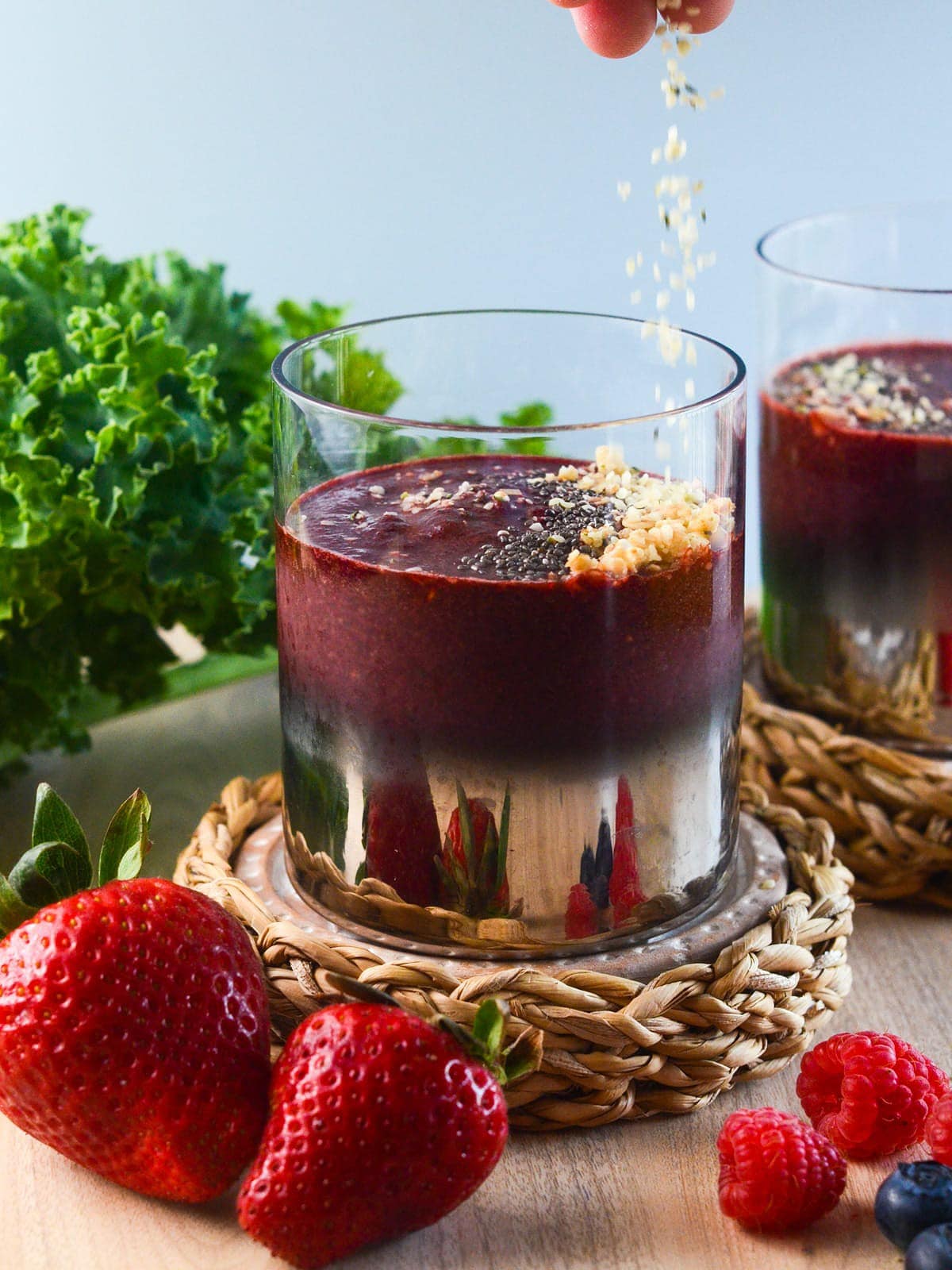 Energy Boosting Ingredients
This kale beet smoothie recipe is filled with energy-boosting ingredients:
Beets are a nutritional powerhouse with lots of energy boosting components that provides a subtle earthy flavor to the smoothie.
Dietary Nitrates: Beets are naturally high in dietary nitrates, which are converted into nitric oxide in the body. Nitric oxide helps widen and relax blood vessels, leading to improved blood flow and oxygen delivery to muscles, enhancing energy production and reducing fatigue. Beets can also improve your blood pressure.
Vitamin C: Beets are a good source of vitamin C, which plays a vital role in energy production. Vitamin C helps convert food into energy and also acts as an antioxidant, protecting cells from oxidative stress that can lead to fatigue.
I recommend using raw beets for this smoothie. Just make sure to peel and roughly chop them.
Kale
Fiber: Kale is rich in dietary fiber, which helps regulate blood sugar levels and prevents energy crashes. The gradual release of sugar into the bloodstream helps sustain energy levels and prevents sudden spikes and drops.
Coconut water
Electrolytes: Coconut water has more electrolytes such as potassium and magnesium which can help replenish minerals lost through sweating during physical activity. This can aid in rehydration which is important for exercise, cognitive function, and more.
Banana
Quick carbs: Bananas are a great source of natural sugars which can provide a quick source of carbohydrates, which can be beneficial for an energy boost.
Mixed Berries
Fiber: Berries have dietary fiber which can help regulate blood sugar levels and provide a steady release of energy over time. They also contain natural sugars, such as fructose, which can provide a quick source of energy.
This kale beet smoothie is one of my favorite smoothies of all time, and I think it will be yours too! I love the vibrant color form the red pigments of the beets and a subtle sweetness from the berries and beets. If you love smoothies, check out my Creamy Strawberry Smoothie Bowl!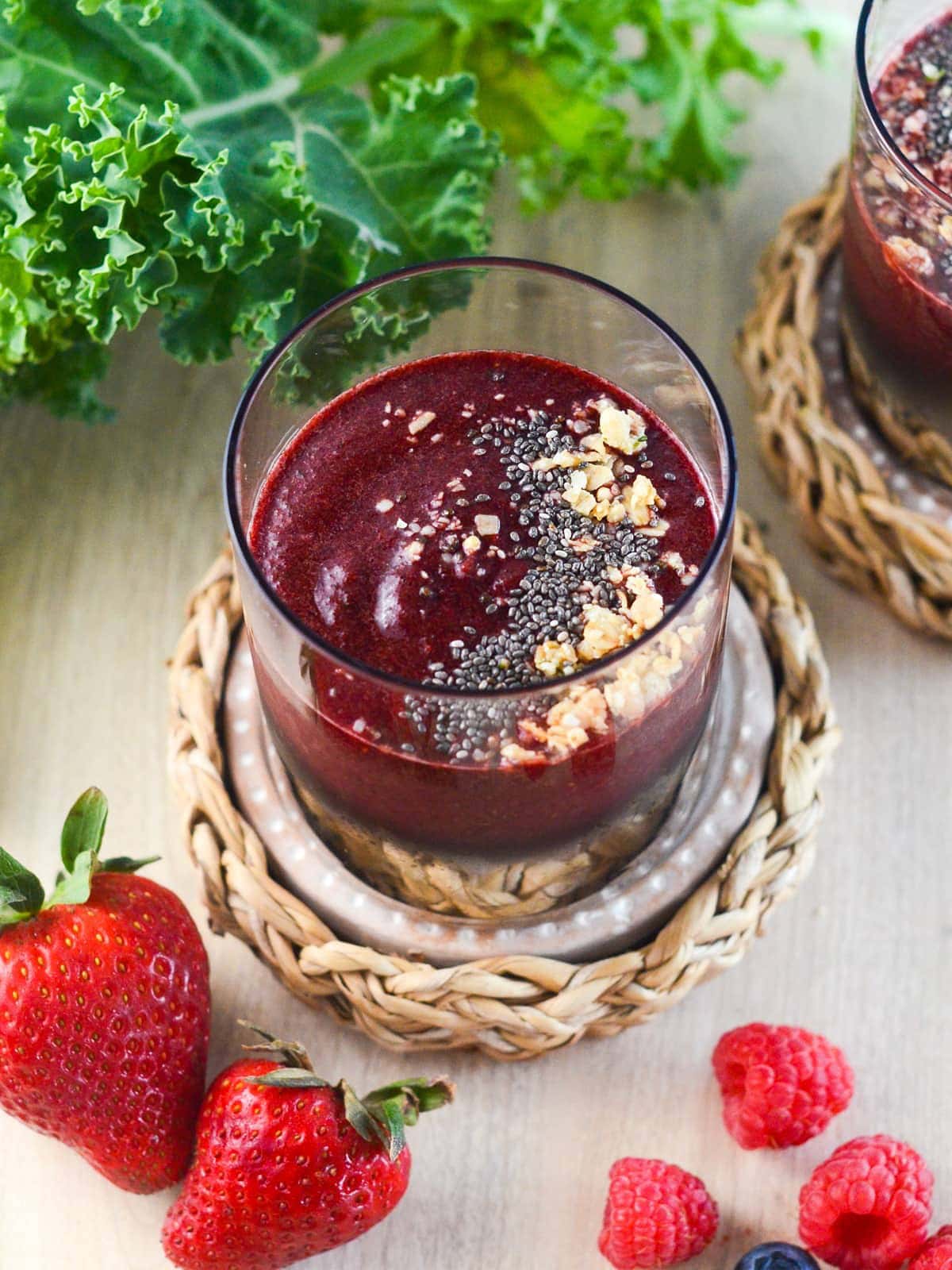 Substitutions & Variations
Use frozen blueberries or raspberries instead of mixed berries
Use a non-dairy milk (like soy milk or almond milk) instead of coconut water.
Add some extra flavor or nutrients...
Add in maple syrup for a touch of sweetness
Chia seeds or Hemp seeds
Fresh ginger for added nutritional benefit and a little spice in the smoothie
Healthy fats like nut butter (almond butter, peanut butter, etc)
More protein with Greek yogurt or vanilla protein powder
Equipment
Instructions
Start by peeling and roughly chopping your beet. Remove the stems off your kale.
Blend all ingredients in a high speed blender until creamy and smooth.
FAQ
Do I have to cook my beet for this smoothie?
No, this recipe uses a raw beet. Simply peel and roughly chop your beet before adding to your blender. You can cook it if you would like.
What type of kale is best for a smoothie?
When it comes to choosing kale for a smoothie, the most commonly used variety is Curly kale (Brassica oleracea var. sabellica). Curly kale has a slightly bitter but pairs well with the sweetness of the smoothie. Its curly leaves blend easily and create a smooth texture in the finished smoothie.
Can I make this into a smoothie bowl?
Yes, just use less liquid. I recommend a high speed blender. Start off with just ¼ cup of coconut water and add more as needed for desired texture.
Use frozen bananas and mixed berries to create the best texture.
Thoroughly wash the kale leaves and remove the tough stems (they can leave a grainy, fibrous texture)
Peel your raw beet with a vegetable peeler and roughly chop so it blends more easily.
Try these other refreshing breakfasts:
♡ Did you love this recipe? ♡
Leave a ⭐️rating and ✏️comment below (I love to read them!) Tag us on Instagram with a photo or video of your dish 📸 @naturallieplantbased.
Subscribe for more delicious recipes!
Energizing Kale Beet Smoothie
An energizing kale beet smoothie combines the nutrient-rich goodness of kale and beets, providing a refreshing and invigorating blend packed with vitamins, minerals, and antioxidants to fuel your day.
Ingredients
1

medium

raw beet

peeled & chopped

3

kale leaves

rib & stem removed

1

cup

frozen mixed berries

1

frozen banana

¾

cup

coconut water

1

tablespoon

maple syrup

(optional for added sweetness)
Optional toppings
granola

hemp seeds

chia seeds
Instructions
Mix all ingredients in high speed blender. You may need to blend for an extra few minutes to ensure kale and beet are fully blended.

Enjoy by itself or top with granola, chia seeds, or hemp seeds.
Notes
Substitutions
Use frozen blueberries or raspberries instead of mixed berries

Use a non-dairy milk (like soy milk or almond milk) instead of coconut water.
Add some extra flavor or nutrients...
Add in maple syrup for a touch of sweetness

Chia seeds or Hemp seeds

Fresh ginger for added nutritional benefit and a little spice in the smoothie

Healthy fats like nut butter (almond butter, peanut butter, etc)

More protein with Greek yogurt or vanilla protein powder
Nutrition
Calories:
176
kcal
Carbohydrates:
38
g
Protein:
5
g
Fat:
2
g
Saturated Fat:
0.4
g
Polyunsaturated Fat:
1
g
Monounsaturated Fat:
0.2
g
Sodium:
207
mg
Potassium:
1052
mg
Fiber:
11
g
Sugar:
23
g
Vitamin A:
8643
IU
Vitamin C:
93
mg
Calcium:
262
mg
Iron:
3
mg