Simplify baking with these fluffy 3-ingredient banana oatmeal muffins that are easy to make in just 20 minutes! These banana oat muffins contain healthy, simple ingredients, and will be your favorite go-to muffins for a breakfast or snack. Feel free upgrade these muffins with chocolate chips, fruit, or nuts!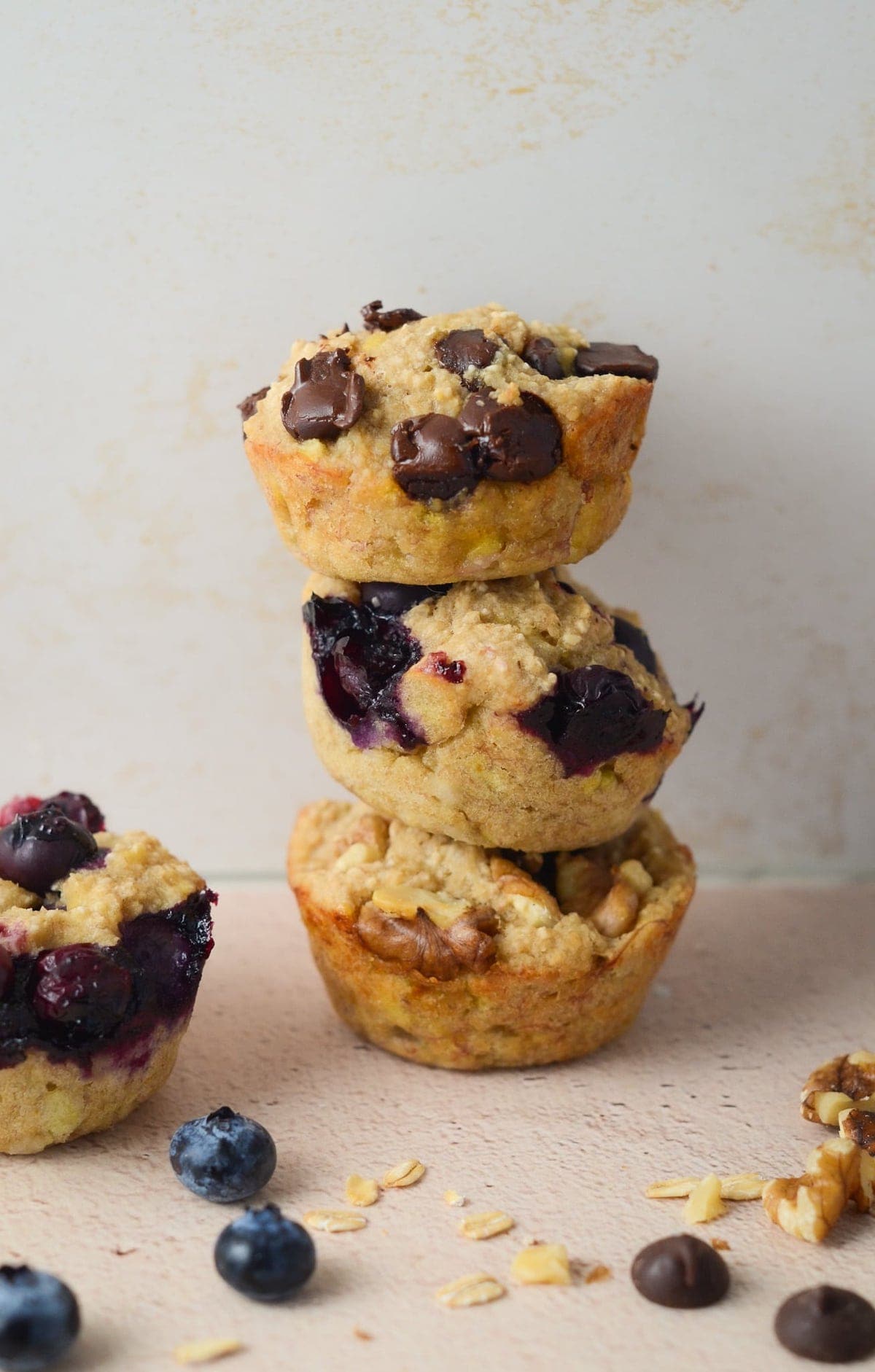 Jump to:
Let's make baking simple! You can make these delicious vegan banana oat muffins with literally just 3 ingredients in one large bowl. I love these for on-the-go easy breakfasts for those busy mornings or a midday snack when you need a little pick me up. They're moist from the bananas, hearty from the oats, and fluffy from the baking powder.
If you love muffins, try out my popular Fluffy Coffee Cake Muffins, Raspberry Muffins or Vegan Cranberry Orange Bourbon Spiced Muffins. You can also enjoy these savory Vegan Egg Muffins that are filled with fresh veggies.
Transform your oats into delicious Cinnamon roll overnight oats for a delicious, easy make ahead breakfast!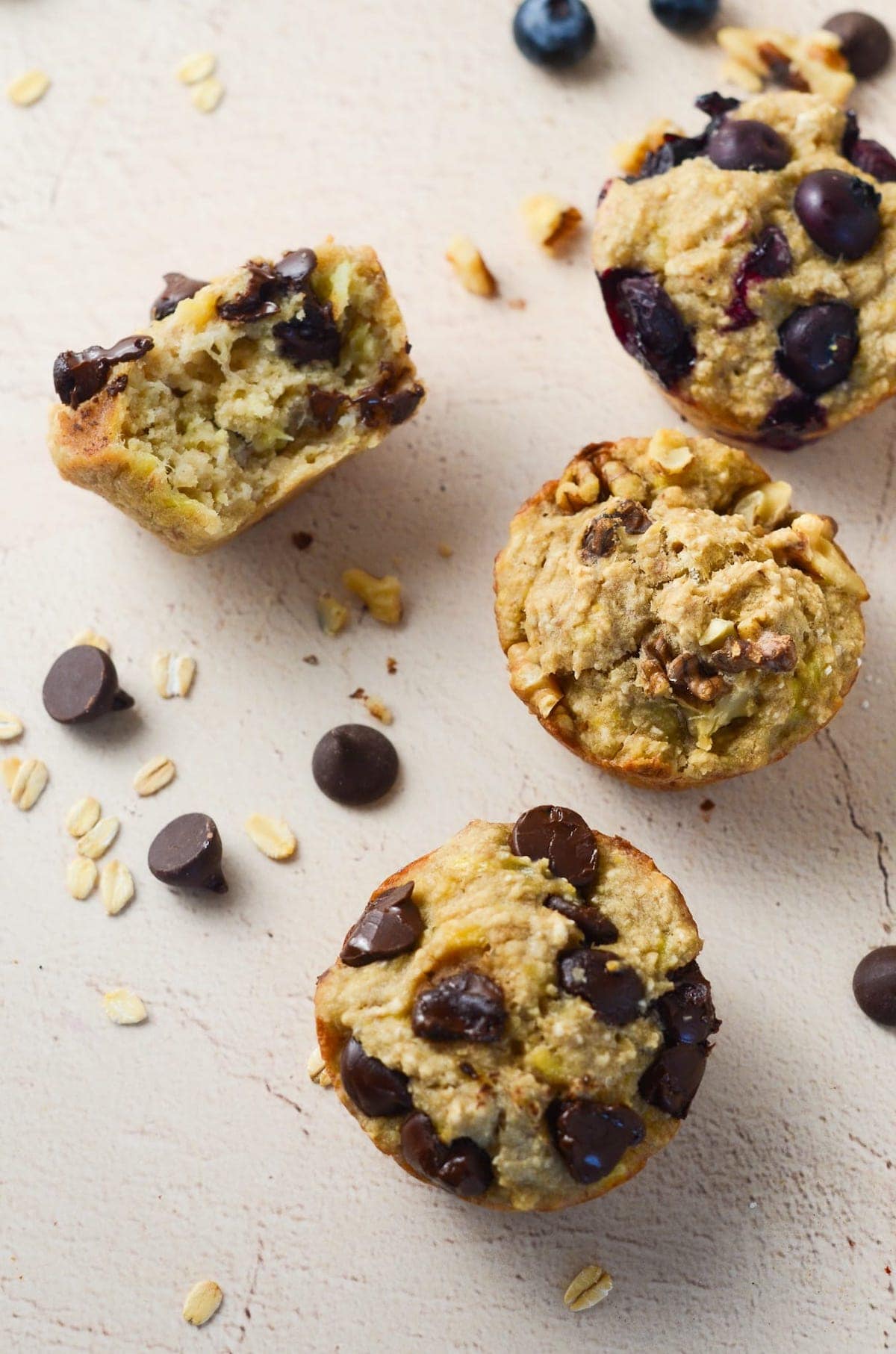 🥫Ingredients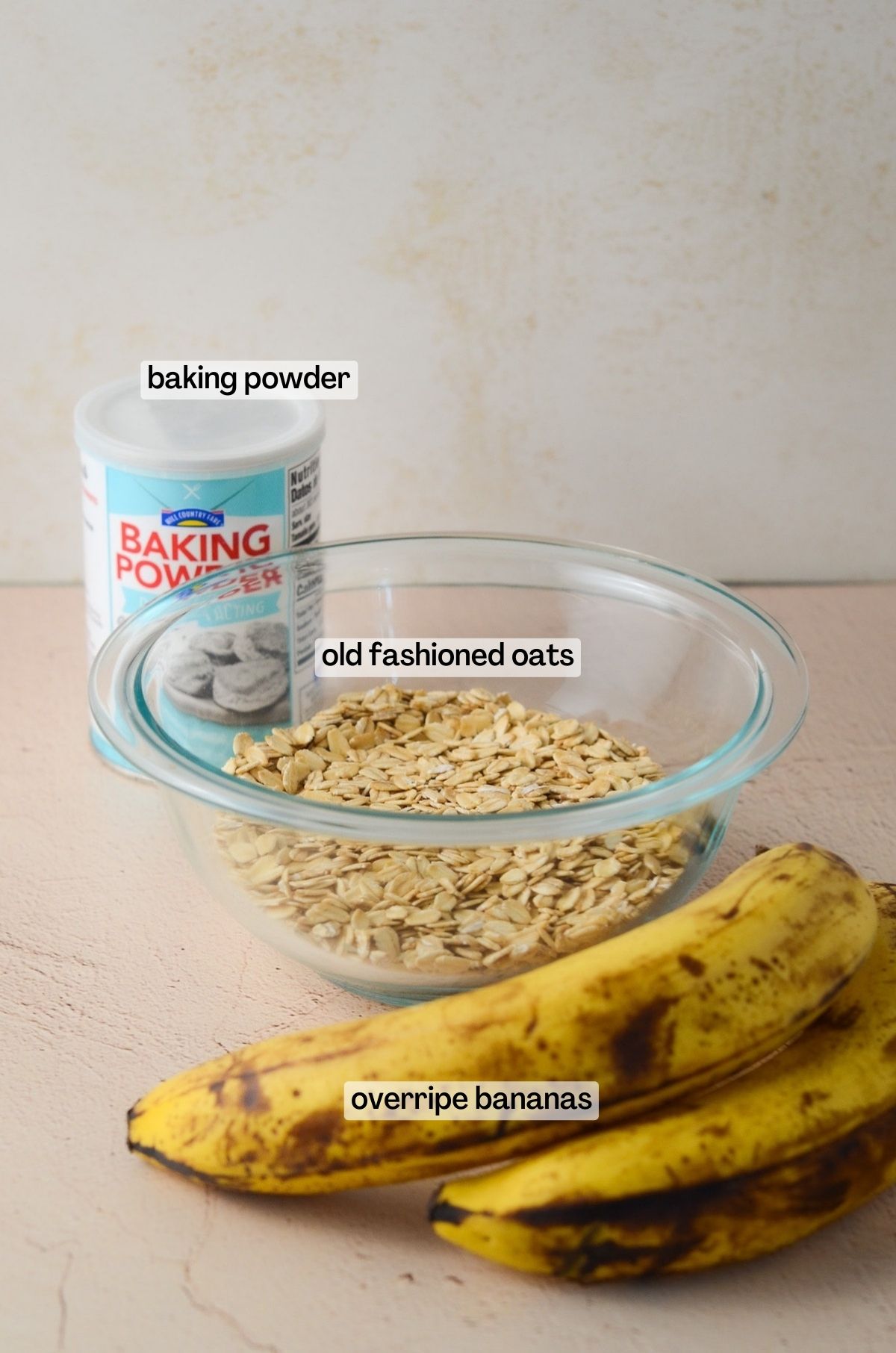 Overripe bananas: You want to use bananas that are spotty and brown (The ones you were about to throw away!) These contain higher amounts of sugar and will add natural sweetness to your muffins. As bananas ripen, their starch turns to natural sugar which is why they are sweeter than their green/bright yellow counterpart.
Old-fashioned oats (Rolled oats): You will be grinding your oats into an oat flour using a blender. You can also use quick cooking oats. Do not use steel cut oats for this recipe as they will not blend into a flour easily.
Baking powder: This will help our muffins rise. Do not use baking soda as this does not contain the acid component that we need for this muffin recipe.
Water: I don't consider this an ingredient, but you will be adding a small amount of water to your muffins to create the proper texture.
See recipe card for quantities.
▶︎Want more delicious oat-based recipes? Try out these No-bake pumpkin cookies that are super easy to make in less than 20 minutes!
🔪 Step-By-Step Instructions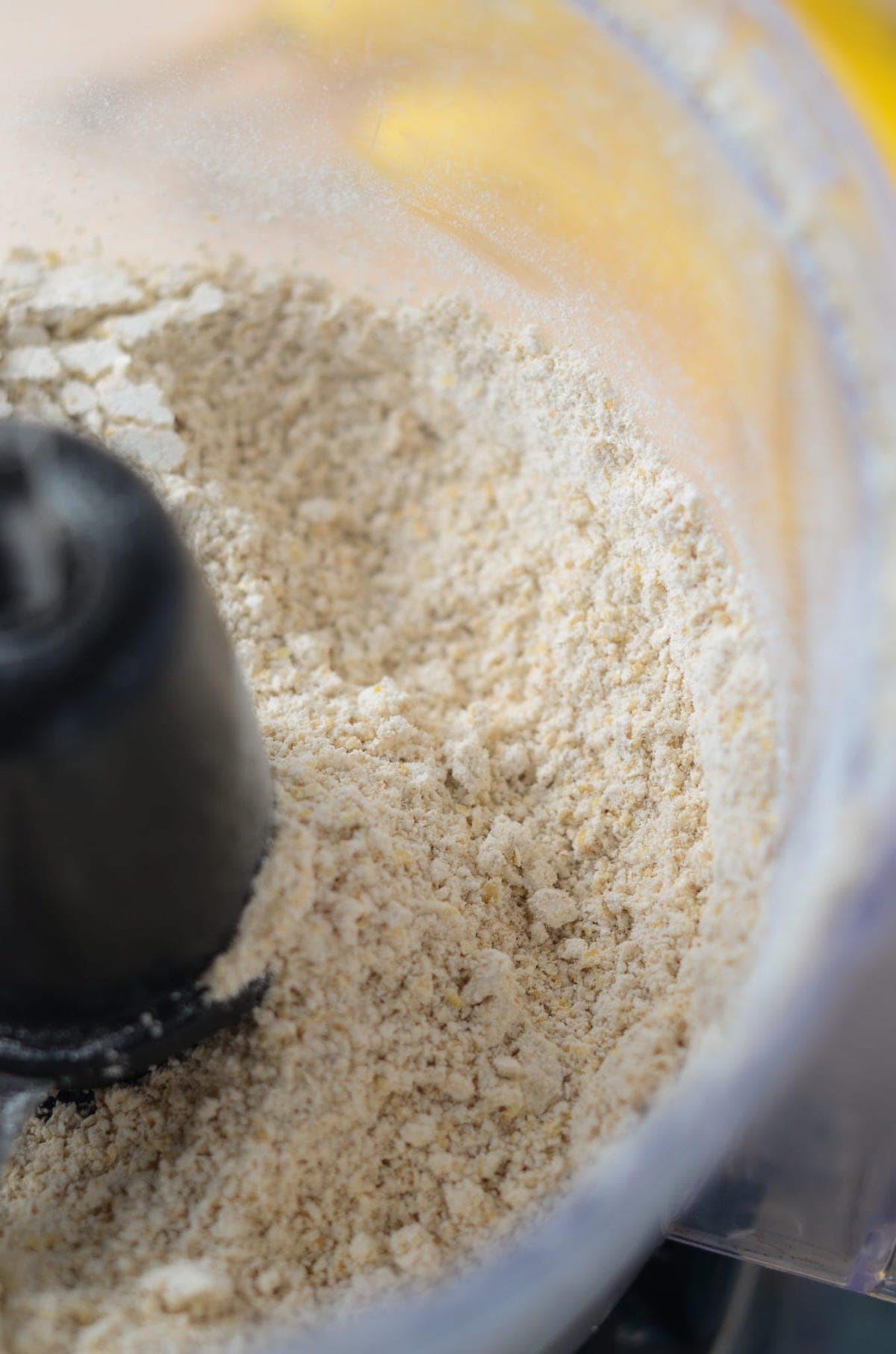 In food processor, add your old fashioned oats and process until it is a fine flour without any large oat pieces. This may take a few minutes.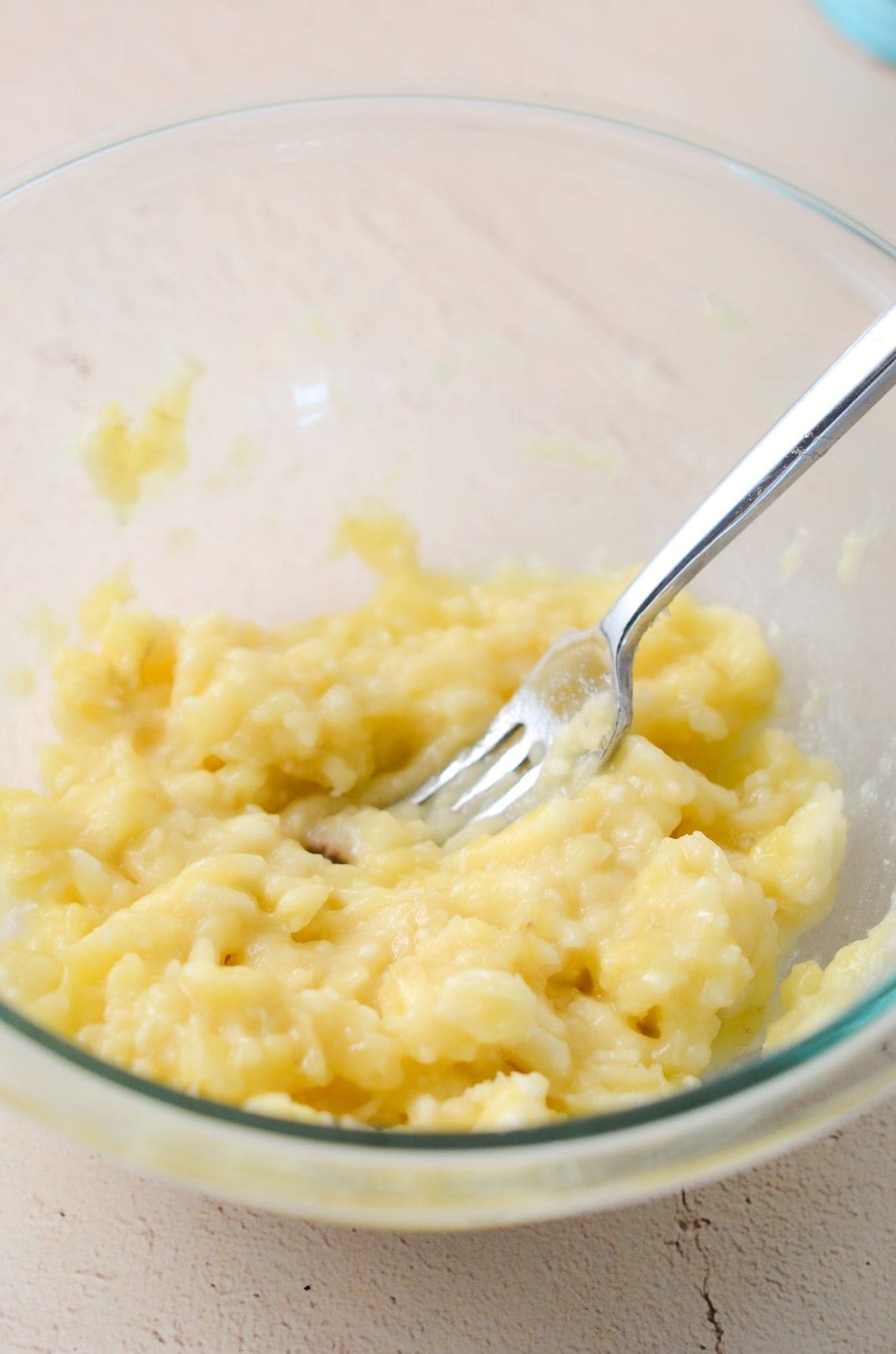 In a medium size bowl, mash your bananas with the back of a fork until there are no large lumps.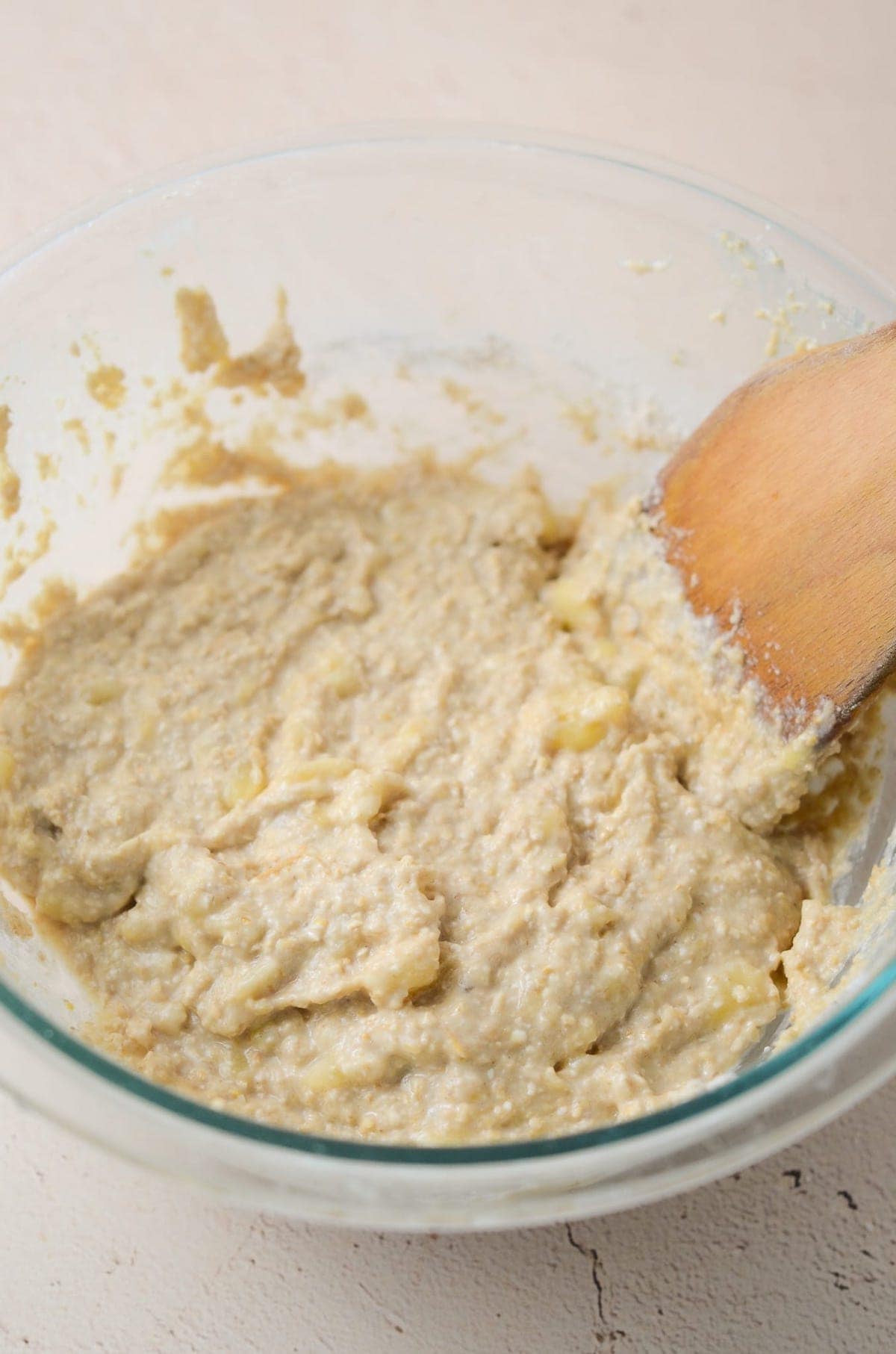 Add your oat flour, baking powder, and water to the bananas and mix until combined. At this point you can add in your vanilla and salt. You can also mix in fruit ,chocolate chips, or nuts. Alternatively just sprinkle it on top too (as seen in next picture).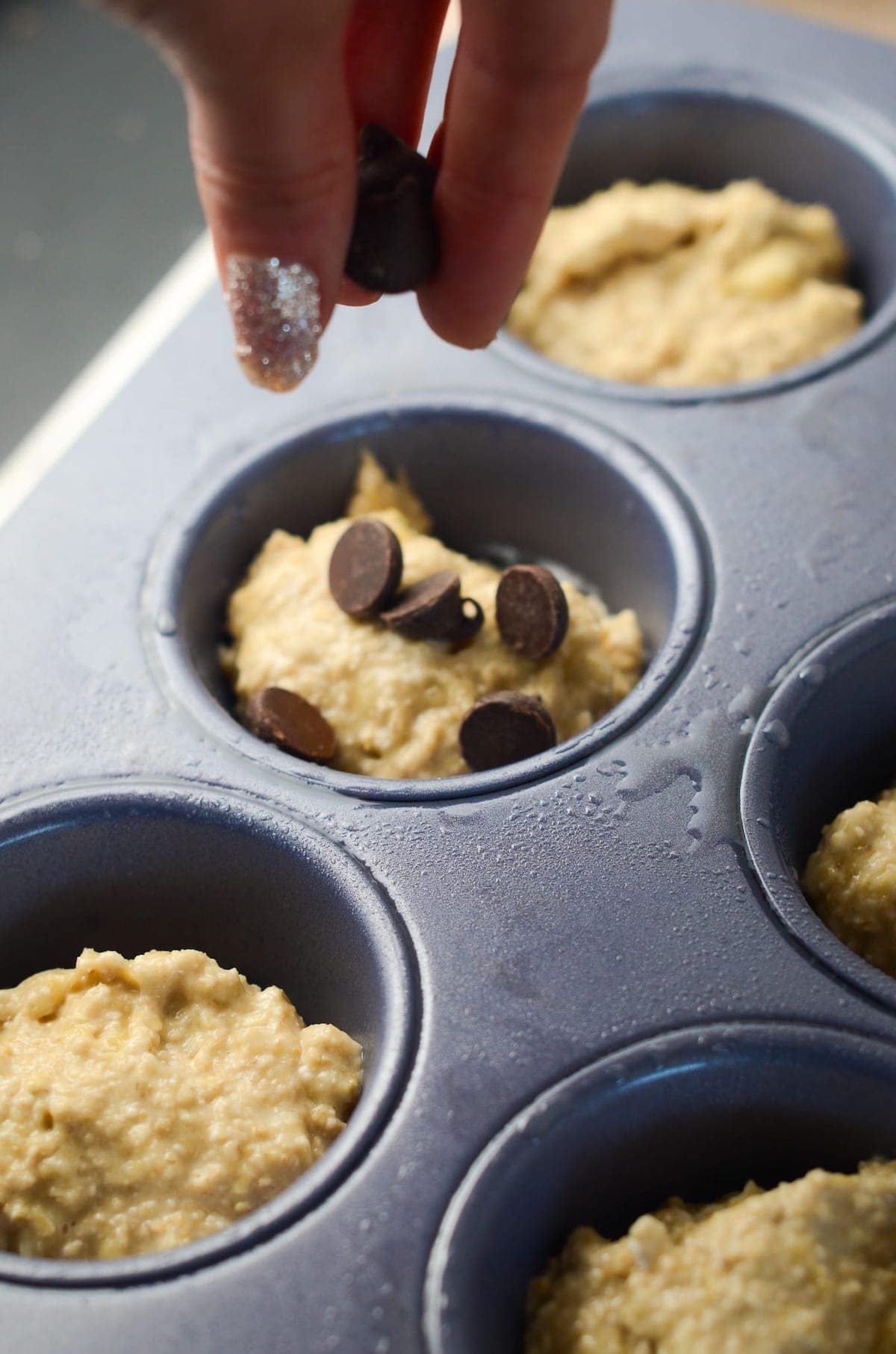 Grease your muffin pan with a non-stick cooking spray and pour ~¼ cup of batter into 6 muffin tins. You can sprinkle the tops of the muffins with chocolate chips, nuts, or fruit. I used a spoon to push down some of the toppings.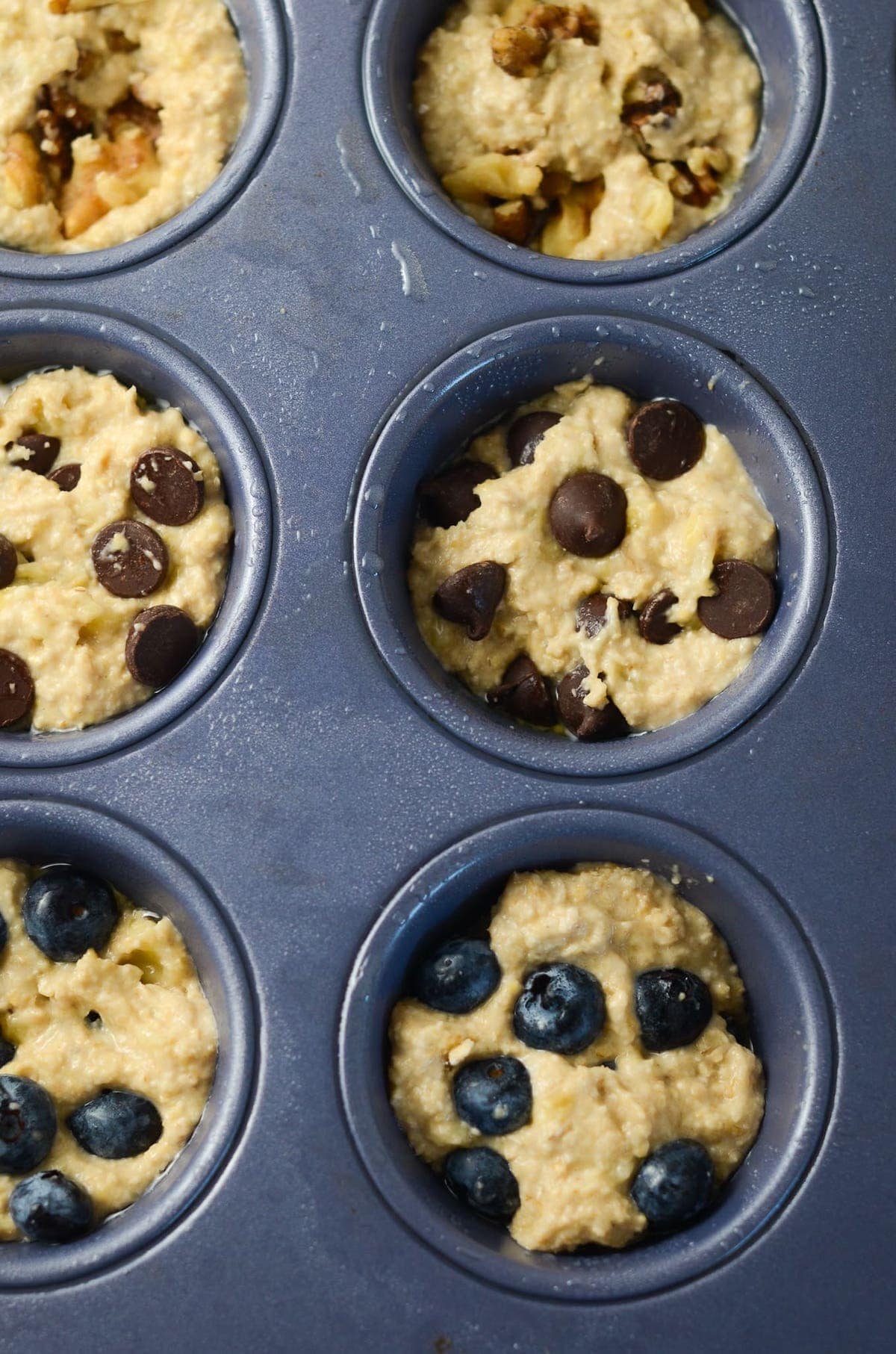 Bake for 15-17 minutes or until the edges are golden brown and a toothpick in the center comes out clean.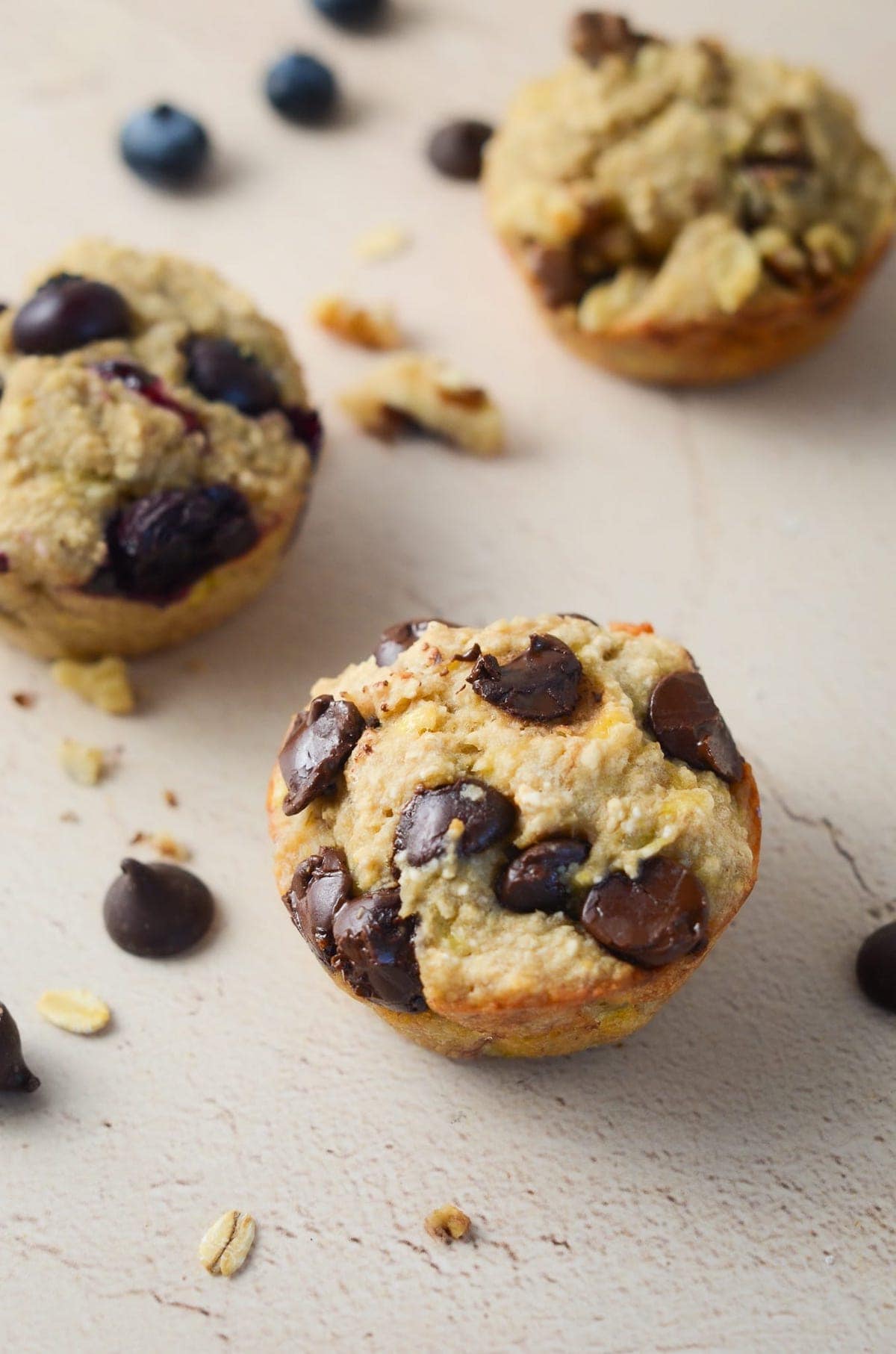 Let muffins cool for 5 minutes before removing from muffin pan. Let cool on a rack for 1 hour before storing.
Hint: I use an avocado oil spray in the muffin pan to grease it before adding the muffin batter. You can also use muffin cup liners if you'd like.
🔄Substitutions
Old fashioned oats - You can use quick cooking oats instead.
Water - Use plant milk such as soy or almond.
✨Variations
Try adding some fun flavors to your simple 3-ingredient banana oat muffins:
Chocolate - add in ⅓-1/2 cup of mini or whole dark chocolate chips for a chocolate flavor
Fruit - add fresh blueberries, raspberries, chopped strawberries, and more! If you use frozen I recommend defrosting and draining out the excess liquid
Nuts or Seeds- add chopped walnuts (for banana walnut muffins!), pumpkin seeds ground flaxseed, chia seeds, sunflower seeds, and more
Nut Butter - add in 1-2 tablespoon of peanut butter, almond butter, or sunflower butter for a different flavor.
More Sweetener- if you like even sweeter muffins add 1 tablespoon of maple syrup with 1 teaspoon vanilla extract. You can also use brown sguar.
Add a pinch of sea salt to round out the sweet flavor of the muffins.
You can also make these muffins in mini muffin tin (will make ~12 mini muffins).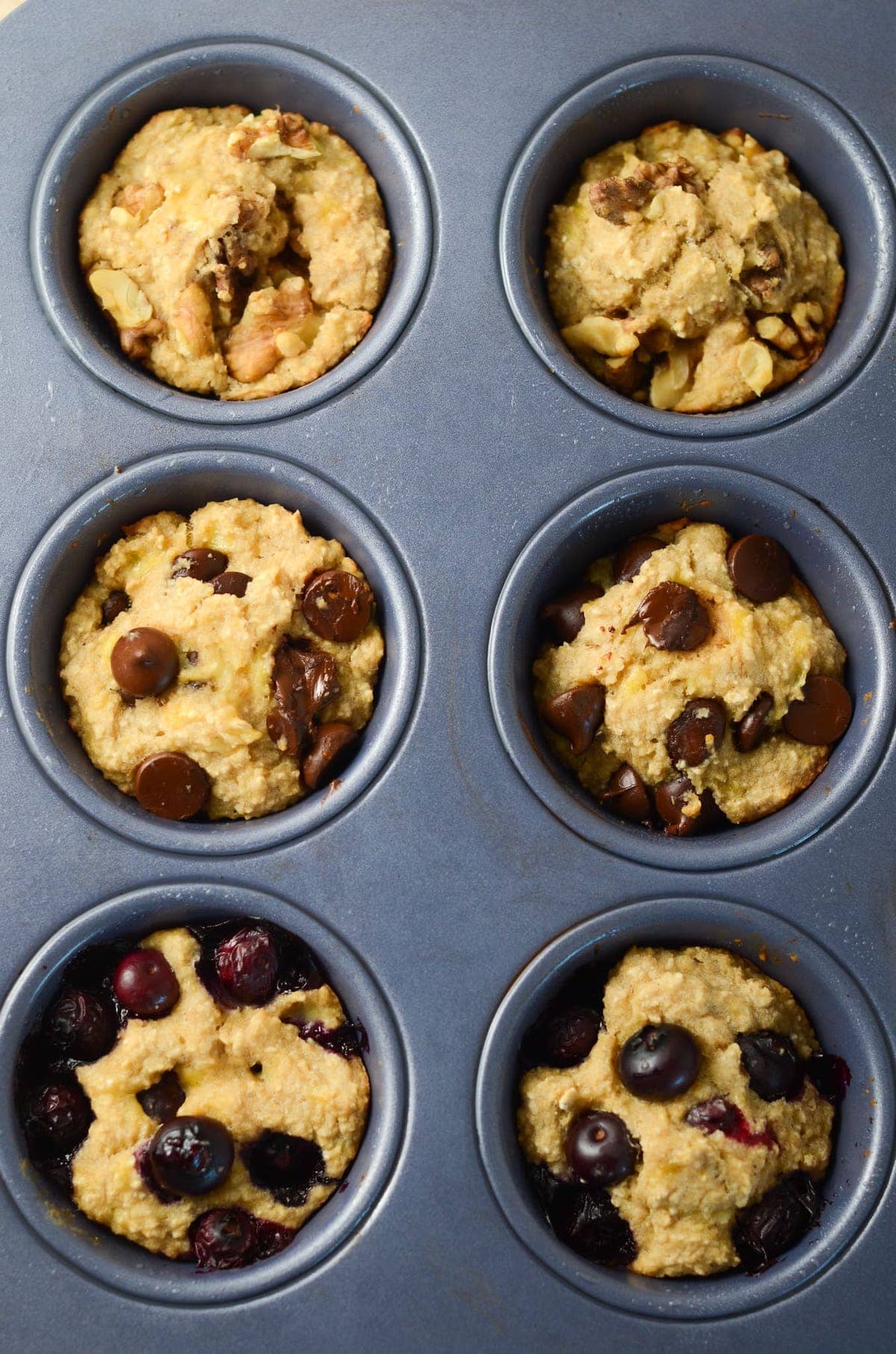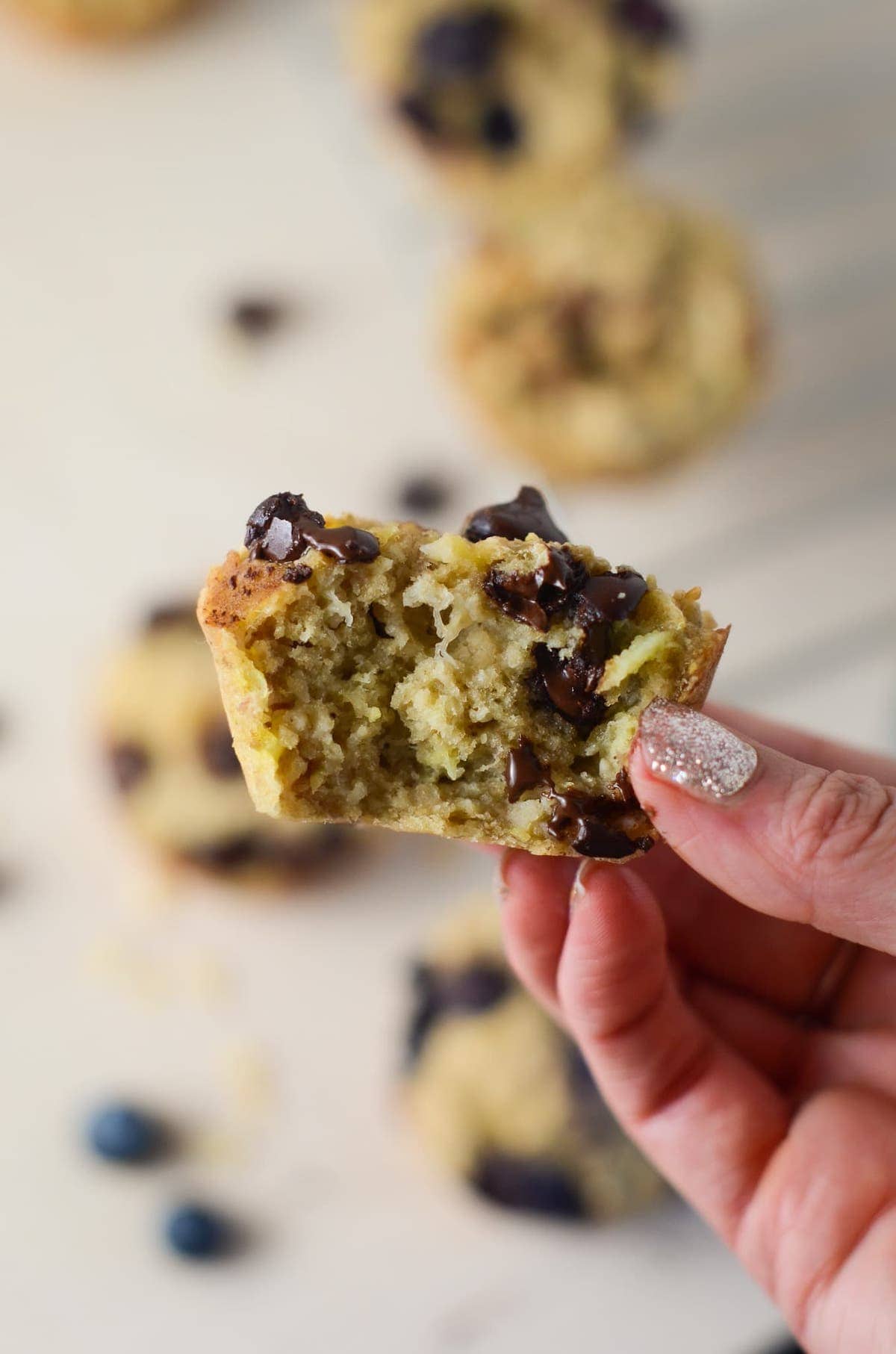 🫙Storage
Let the vegan banana oat muffins cool completely before storing. Store them in an airtight container in the fridge for up to 5 days.
You can freeze these muffins for up ro 3 months in a container or gallon size plastic bag.
Reheat muffins in the microwave (10-15 sec) or in a convection oven (350F for 5 minutes).
❓Recipe FAQs
Is a muffin a healthy breakfast?
These muffins contain no added sugar or processed ingredients. They are a healthy breakfast filled with fiber (which is good for digestion) and other vitamins from the banana.
How sweet are banana oatmeal muffins?
These banana muffins have a mild natural sweetness to them from the ripe bananas. If you like your muffins sweeter, add in a tablespoon of maple syrup or consider the addition of chocolate chips or fruit.
Can I use quick cooking oats?
Yes, quick cooking oats work as well. We are grinding our oats into an oat flour in a blender or food processor and quick oats will blend the same as old fashioned oats.
Can I use baking soda instead of baking powder?
No, these have a different chemical composition. Use fresh baking powder that is no more than 6 months old. If your baking powder is older than 6 months you may have flat and/or denser muffins.
Do I need to use muffins liners?
No, you do not need muffins cups however they are helpful to prevent sticking and save on clean-up. You can use a small spray of avocado oil in each muffin tin before adding the batter.
❤️When to enjoy these muffins:
These delicious banana oatmeal muffins can be eaten for:
A breakfast at home or on-the-go. Heat it up in the microwave for 10-15 seconds an put some butter, jam, or nut butter on each half.
A tasty snack for mid-morning or afternoon with a cup of tea or coffee.
With the addition of chocolate, fruit, or nuts, this can easily be elevated into a healthy dessert!
Try out these other delicious breakfasts:
How to make your bananas ripen faster: Place the banana in a brown paper bag with another ripe fruit such as an apple or avocado. Loosley fold up the bag. The ethylene gas will help your banana ripen much faster (1-2 days quicker).
How to tell when your muffins are done cooking: The outer edge should be golden brown. Insert a toothpick in the middle and if it comes out clean your muffins are done.
These are tender muffins but still have a fluffy texture. If you want them even fluffier add in an extra ¼ teaspoon of baking powder.
♡ Did you love this recipe? ♡
Leave a ⭐️rating and ✏️comment below (I love to read them!) Tag us on Instagram with a photo or video of your dish 📸 @naturallieplantbased.
Subscribe for more delicious recipes!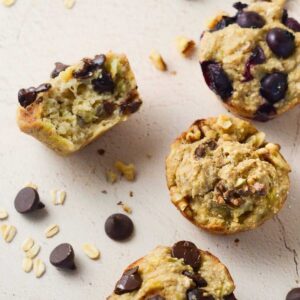 Easy 3-Ingredient Banana Oatmeal Muffins
These healthy 3 ingredient banana oatmeal muffins are the easiest breakfast or snack you can make in just 20 minutes. They're fluffy, moist, and delicious!
Equipment
1 medium size mixing bowl
Ingredients
2

medium overripe bananas

mashed (~1 cup)

1

cup

old fashioned oats

½

tsp

baking powder

1

tablespoon

water

(optional but recommended)
Optional
1

teaspoon

vanilla extract

¼

teaspoon

salt salt

⅓-1/2

cup

dark chocolate chips

½

cup

blueberries

⅓-1/2

cup

walnuts

chopped
Instructions
Preheat oven to 350 F or 176 C.

Make your oat flour by adding your old fashioned oats to a food processor and blending for 1-2 minutes until a flour has formed.

In a medium mixing bowl, mash your bananas with the back of a fork until there are no large lumps.

Add the oat flour and baking powder to the mashed bananas. (Optional: I recommend adding in 1 tablespoon of water if your mixture is thick). Add in vanilla and ¼ teaspoon salt if you at this time if you desire. Mix until combined but do not overmix.

Fold in chocolate chips, blueberries, or walnuts if desired. You can also wait to add these ingredients until the batter is in the muffin pan. Sprinkle it on top and press the toppings into the batter with a spoon.

In a greased muffin pan, add in ~¼ cup of batter into 6 muffin tins. (Optional: Use muffin tin liners).

Bake for 15-17 minutes until slightly browned on the edges and a toothpick comes out clean.

Let muffins sit for 5 minutes before rimming the edges with a knife and removing from pan. Let cool for another 10 minutes on a cooling rack.

Enjoy warm with some vegan butter or jam.
Notes
Substitutions/Additions:
Oats: You can use quick cooking oats in place of old fashioned. Do not use steel cut oats.
Water: Use a plant-milk instead.
Switch up the flavor of these muffins by adding:

chocolate chips or mini chips
fresh or frozen fruit (make sure to defrost and drain fruit ahead of time)
nuts or seeds
nut butter such as peanut butter or almond butter
Storage:
Store these muffins in the fridge for up to 5 days.
Freeze in a container for up to 3 months
Other tips:
These muffins taste amazing warm with a little butter inside!
Serve them with your morning coffee or tea.
Ripen your bananas faster by placing them in loosely closed brown bag with another ripe fruit such as an apple or an avocado.
Calorie count disclaimer: Naturallie Plant-Based offers nutritional information for recipes contained on this site. This information is provided as a courtesy and is an estimate only. This information comes from online calculators. Although Naturallie Plant-Based attempts to provide accurate nutritional information, these figures are only estimates.
Nutrition
Calories:
192
kcal
Carbohydrates:
27
g
Protein:
4
g
Fat:
8
g
Saturated Fat:
3
g
Polyunsaturated Fat:
3
g
Monounsaturated Fat:
1
g
Cholesterol:
0.1
mg
Sodium:
145
mg
Potassium:
292
mg
Fiber:
3
g
Sugar:
10
g
Vitamin A:
34
IU
Vitamin C:
5
mg
Calcium:
66
mg
Iron:
1
mg