There's nothing better than acorn squash in the fall! This vegetable is slightly sweet, nutty, creamy, and pairs with so many mains or sides. You will love this list of vegan acorn squash recipes that are perfect for the autumn season. You will find a variation of sides as well as many main dishes that are also great for your holiday table!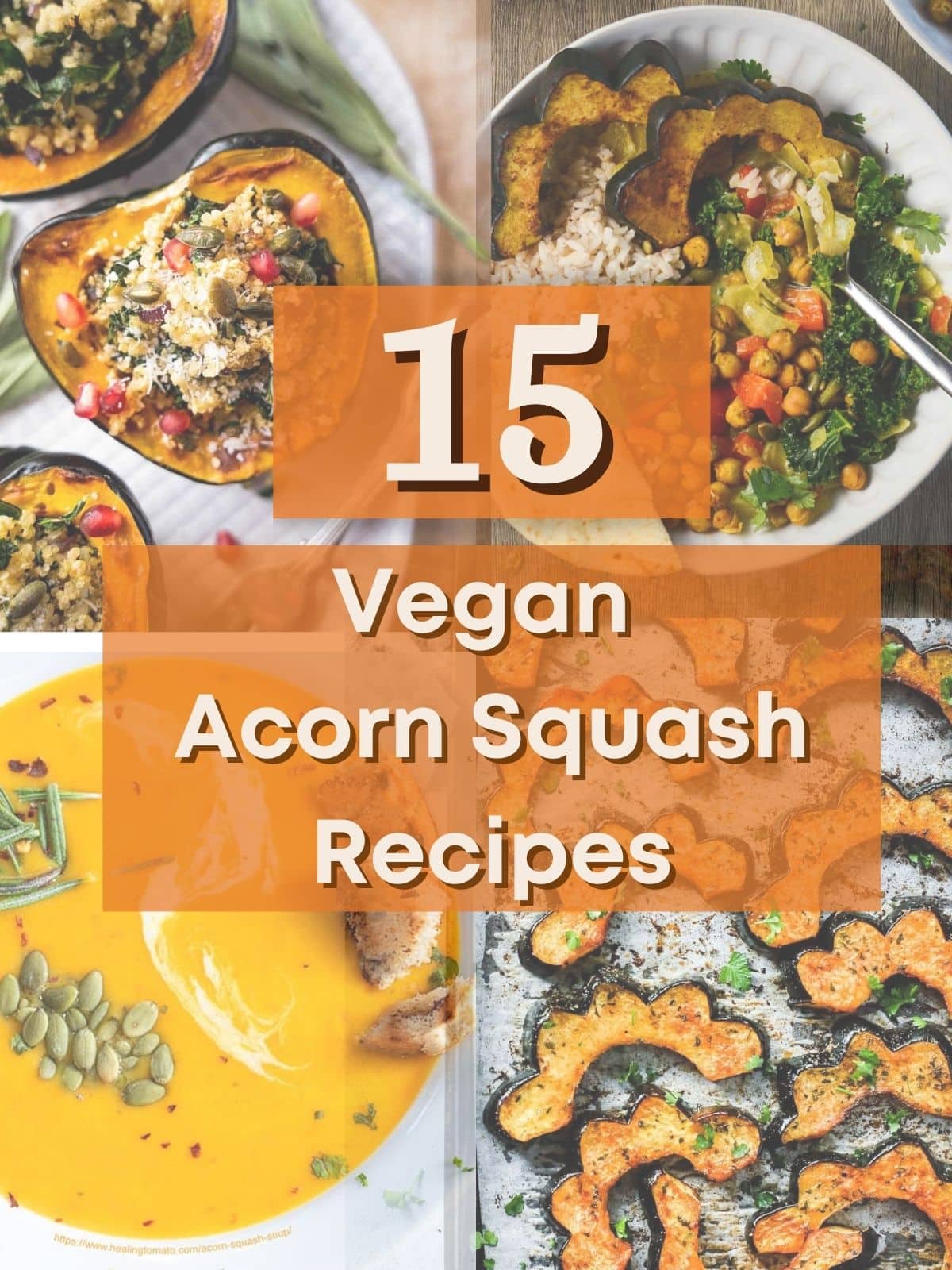 Jump to:
❓Quick FAQs
How do I select a ripe acorn squash?
Look for acorn squash that is firm and heavy for its size. Check for a deep, uniform color, usually dark green or orange. Check the skin for soft spots, blemishes, or cuts.
Can you eat the skin of acorn squash?
Yes, you can eat the skin of acorn squash. It becomes tender when cooked and adds extra fiber and nutrients to your meal. However, some people prefer to peel it for certain recipes or personal preference.
What's the difference between acorn squash and other winter squashes like butternut or spaghetti squash?

Acorn squash has a sweet, nutty flavor with a moist, tender flesh. It's typically smaller and rounder than butternut squash and has a milder flavor than spaghetti squash.


You will love this copycat creamy vegan winter acorn squash soup that is a vegan version of Panera's Acorn Squash soup. This is a great fall soup that will warm you up with every bite!
Total Time: 1 hour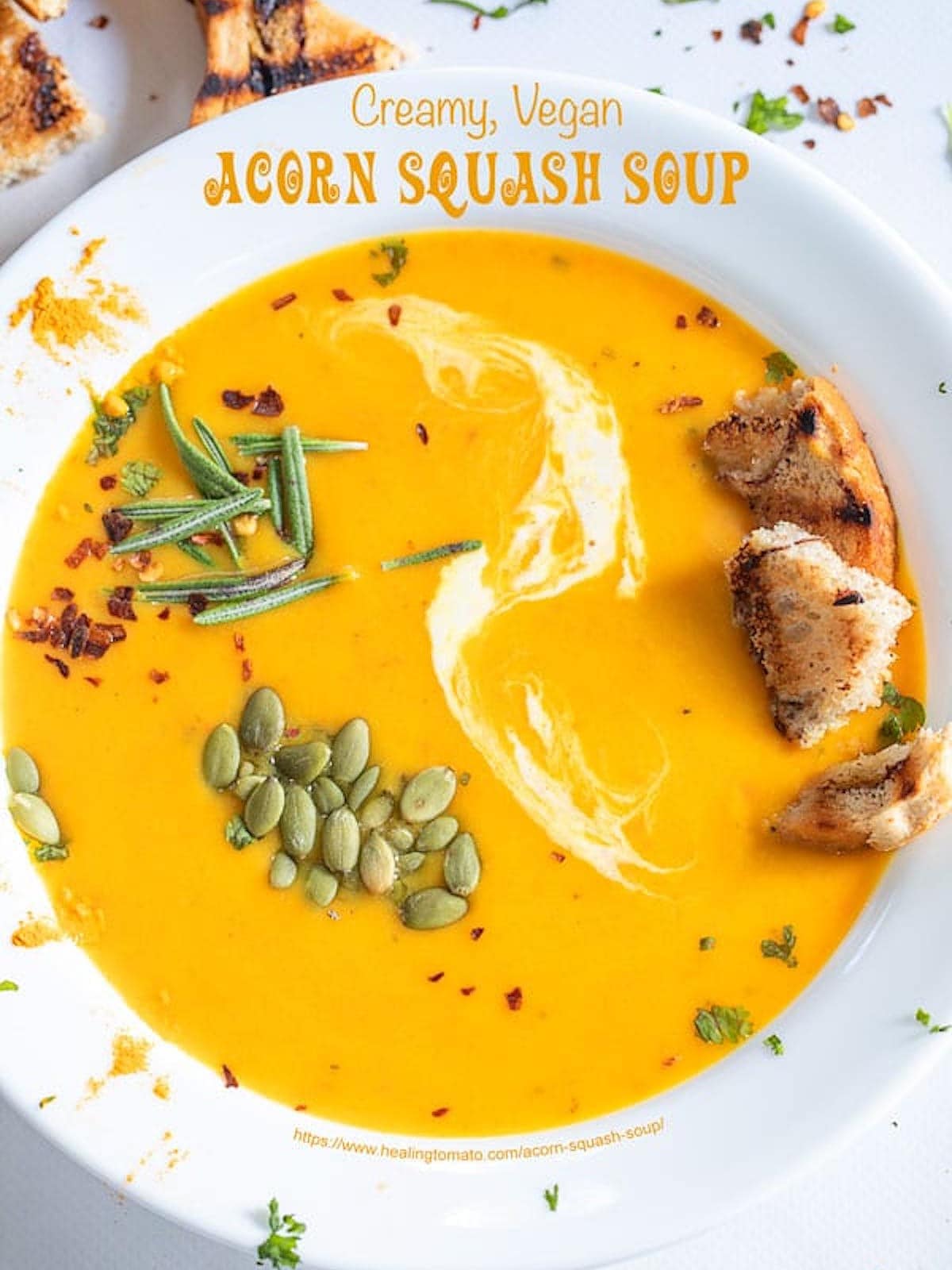 Try this Vegan Stuffed Acorn Squash that is loaded with a delicious stuffing made with apple, sautéed kale, sweet dried cranberries, and crunchy pecans!
Total Time: 45 minutes
These flavorful acorn squash pieces are roasted with a delicious ginger miso marinade and topped with crunchy pistachios. This is a the perfect fall side dish for any meals!
Total Time: 30 minutes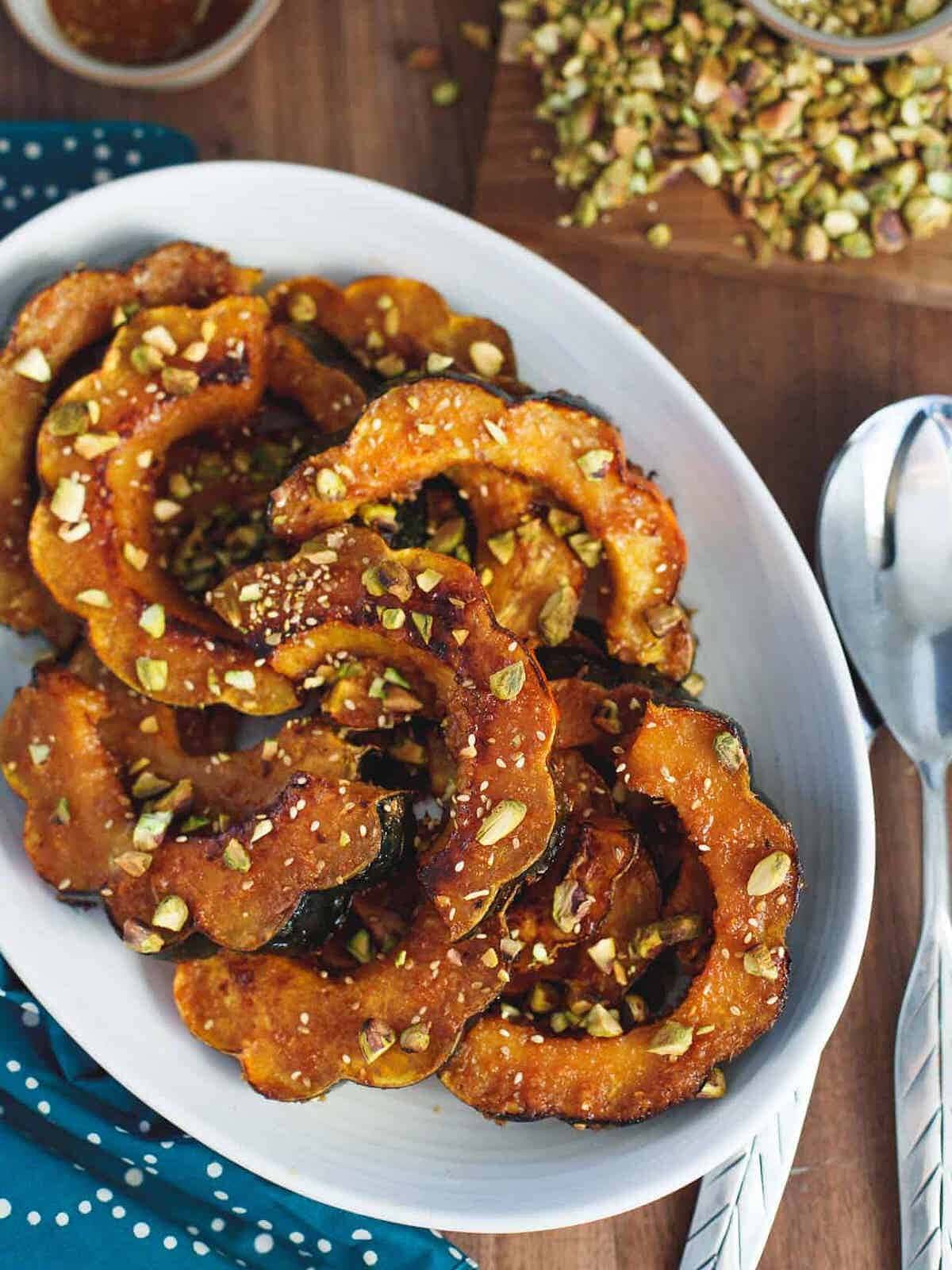 Cozy up with this flavorful acorn squash curry that combines sweet & nutty roasted acorn squash with a creamy curry broth and crispy chickpeas. Serve it with some warm rice and naan for a comforting meal that will warm your soul!
Total Time: 35 minutes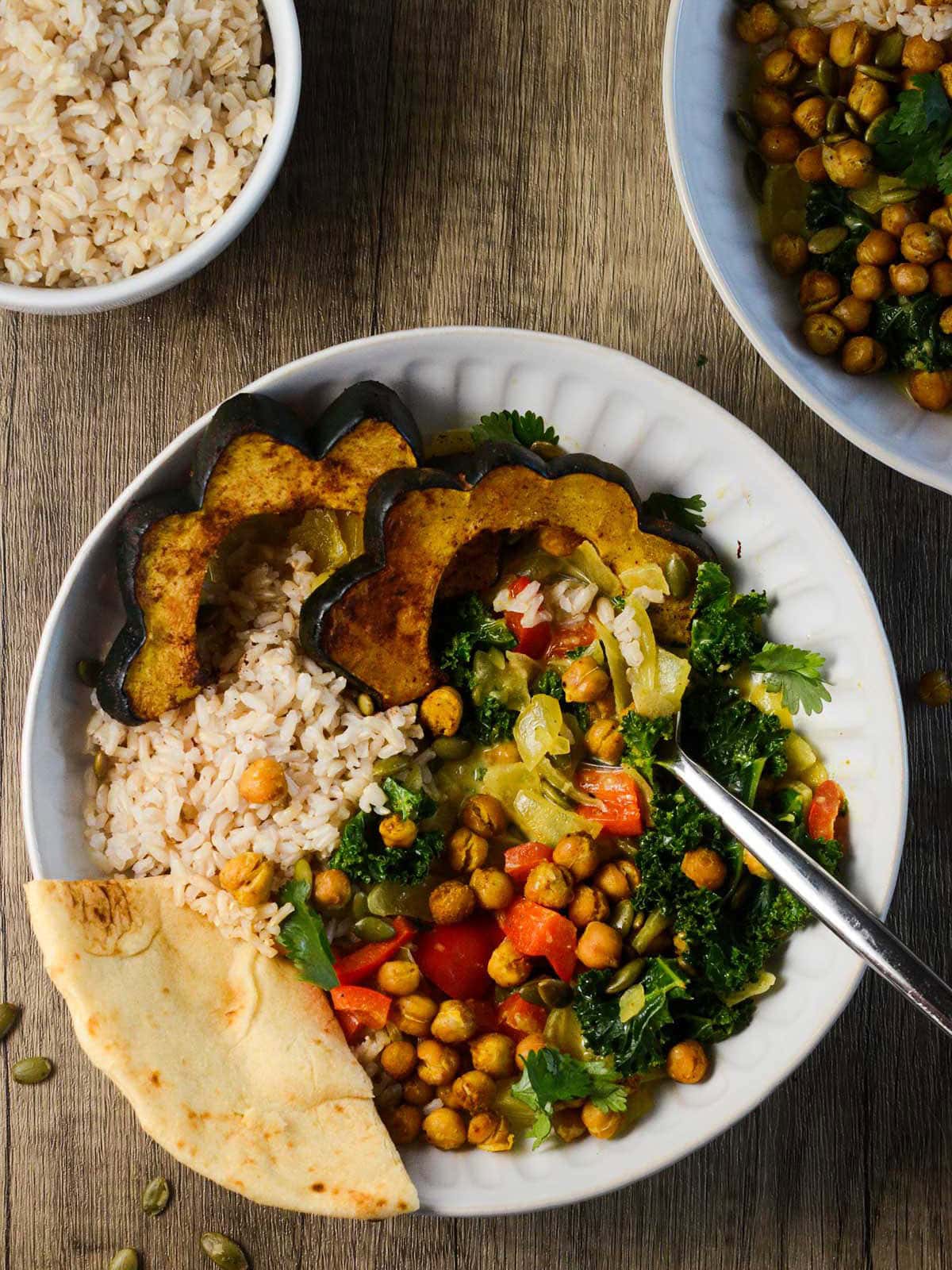 Roasted Acorn Squash Slices are a gorgeous autumn side dish that doesn't require many ingredients. Serve this at the holidays amongst and it will be one of the favorite dishes!
Total Time: 30 minutes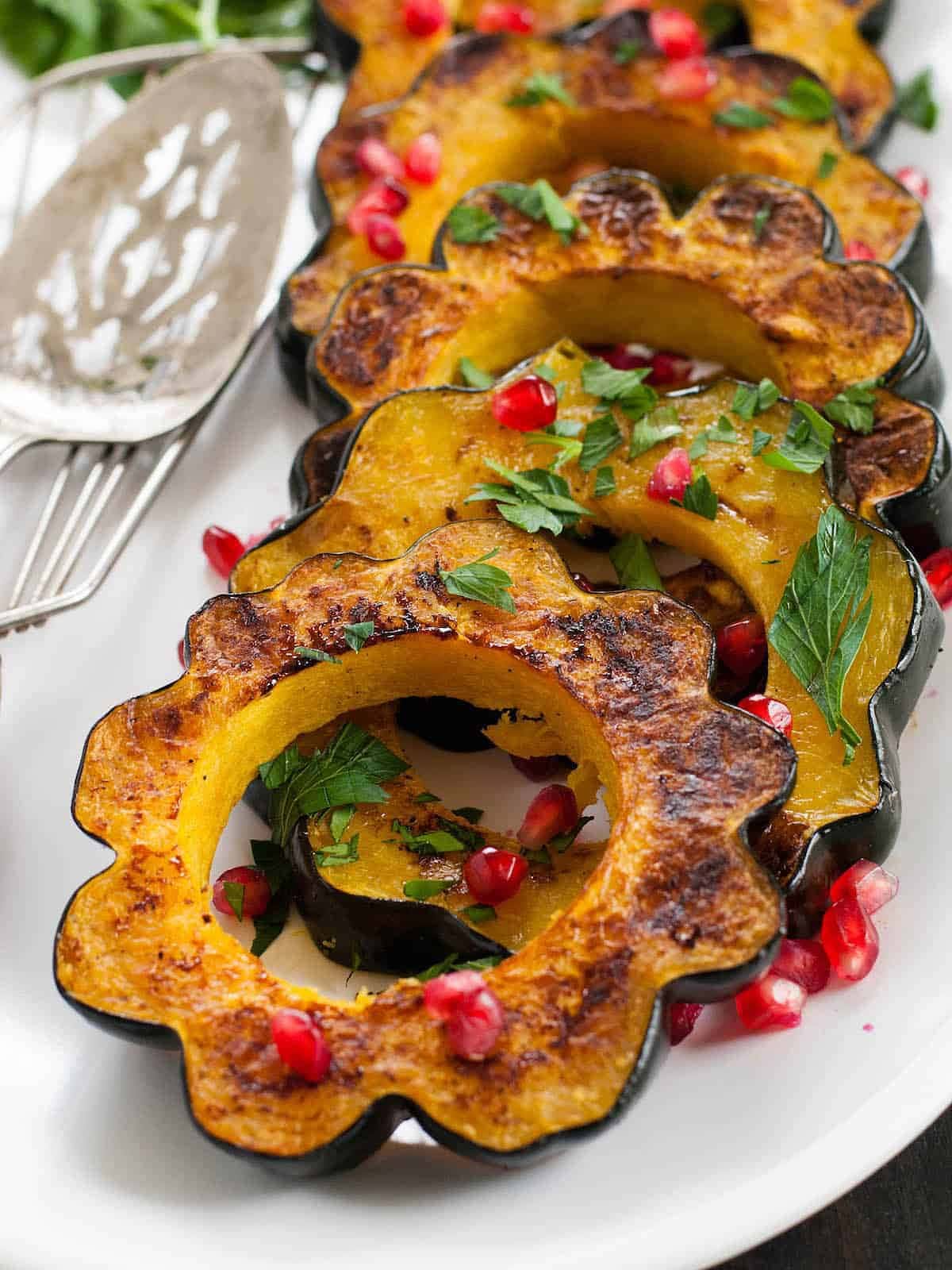 You will fall in love with this amazing autumn dish! Apple cranberry acorn squash combines delicious apples, cranberries, squash and fall spices for a flavorful side dish everyone will enjoy.
Total Time: 1 hour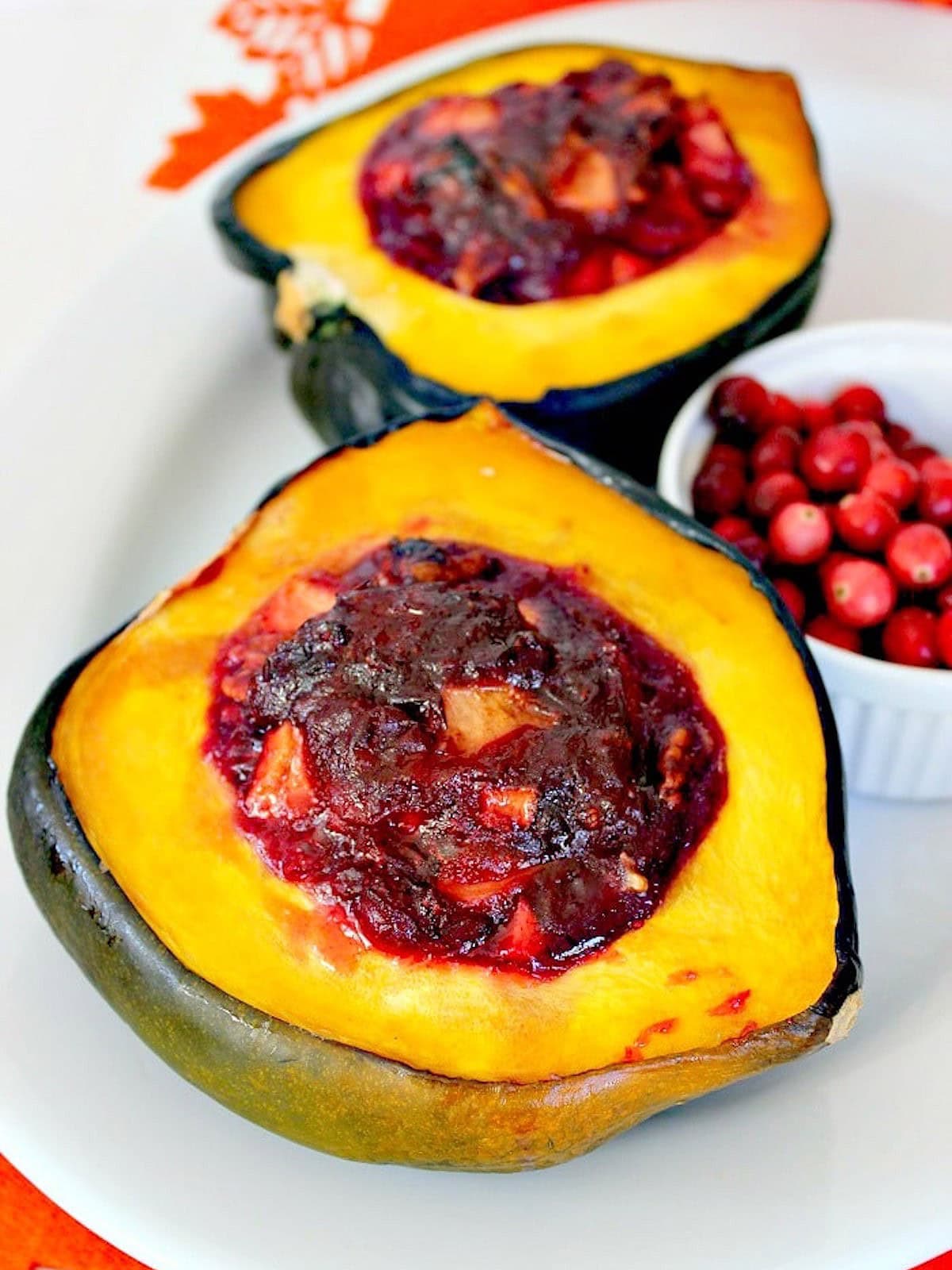 These Roasted Acorn Squash Nourish Bowls are packed with nutritious ingredients that are also insanely delicious. This bowl combines kale, quinoa, roasted chickpeas, and more for a healthy weeknight dinner!
Total Time: 30 minutes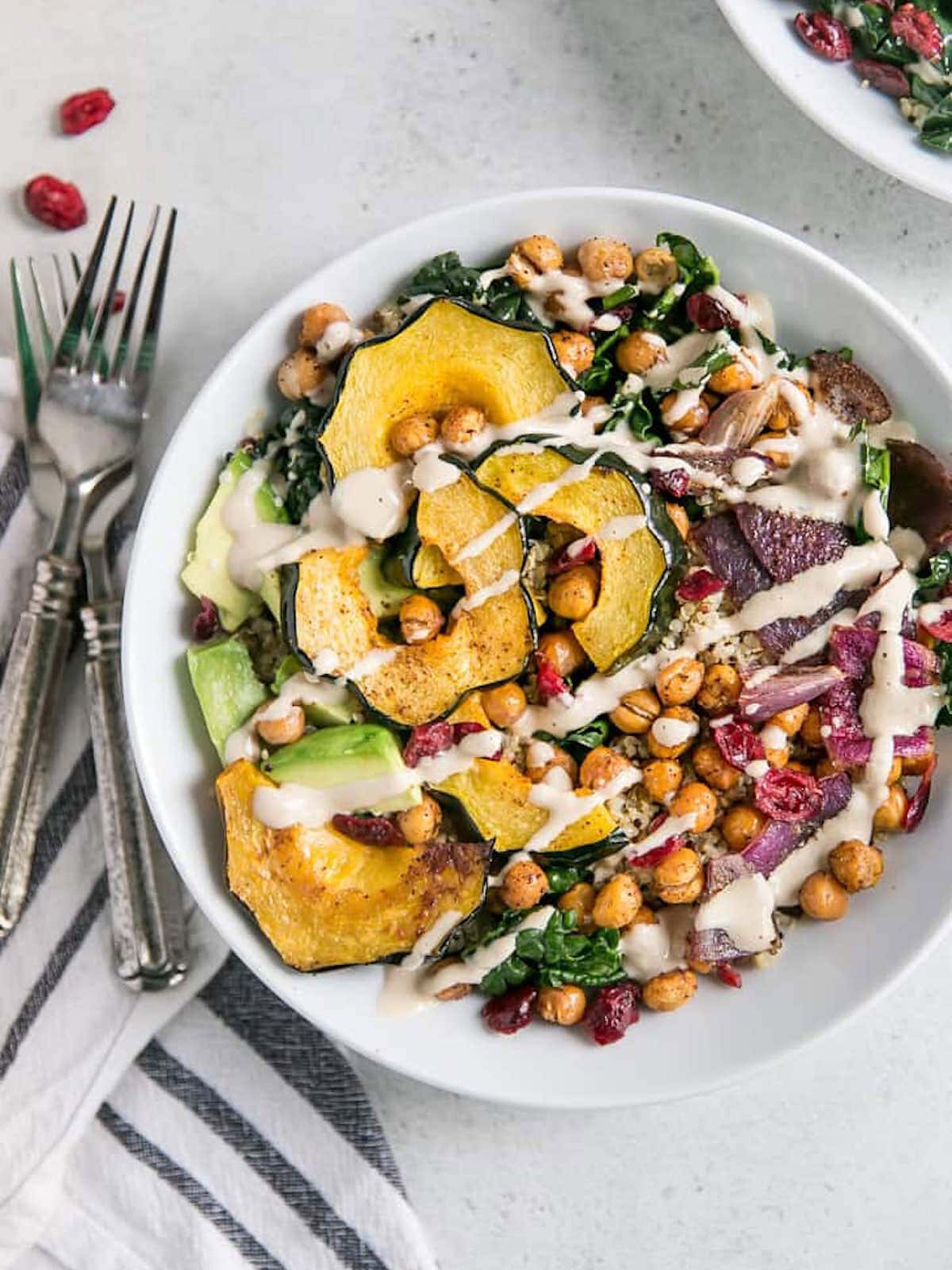 Roasted and mashed acorn squash is an easy dish to make with just 7 ingredients! It is a vibrant and colorful dish that is high in nutritional value and is a great side dish for the holidays!
Total Time: 55 minutes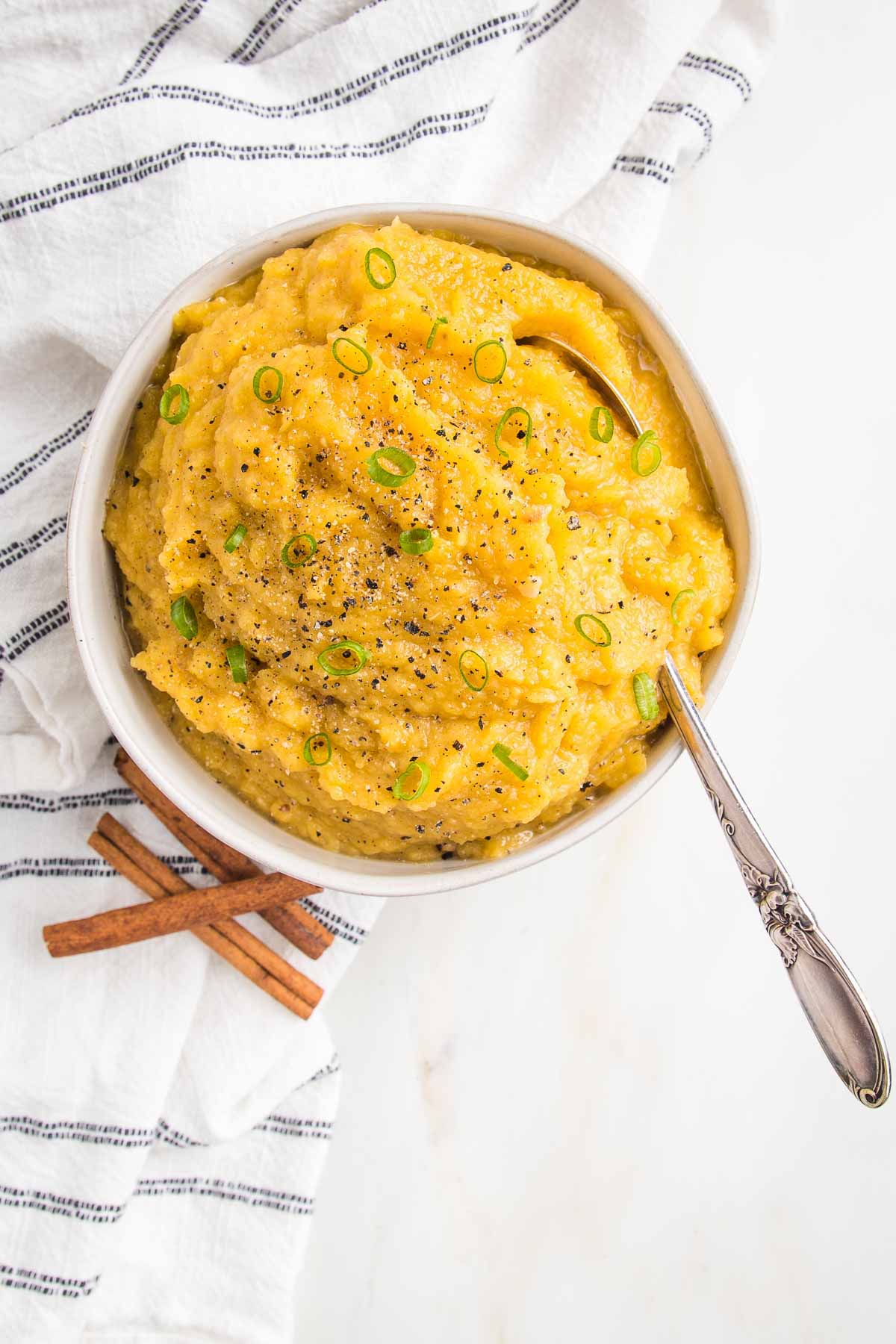 This Fall-inspired roasted acorn squash hummus is a creamy, sweet, and smoky snack that pairs with simple crackers or can be enjoyed at breakfast on toast!
Total Time: 55 minutes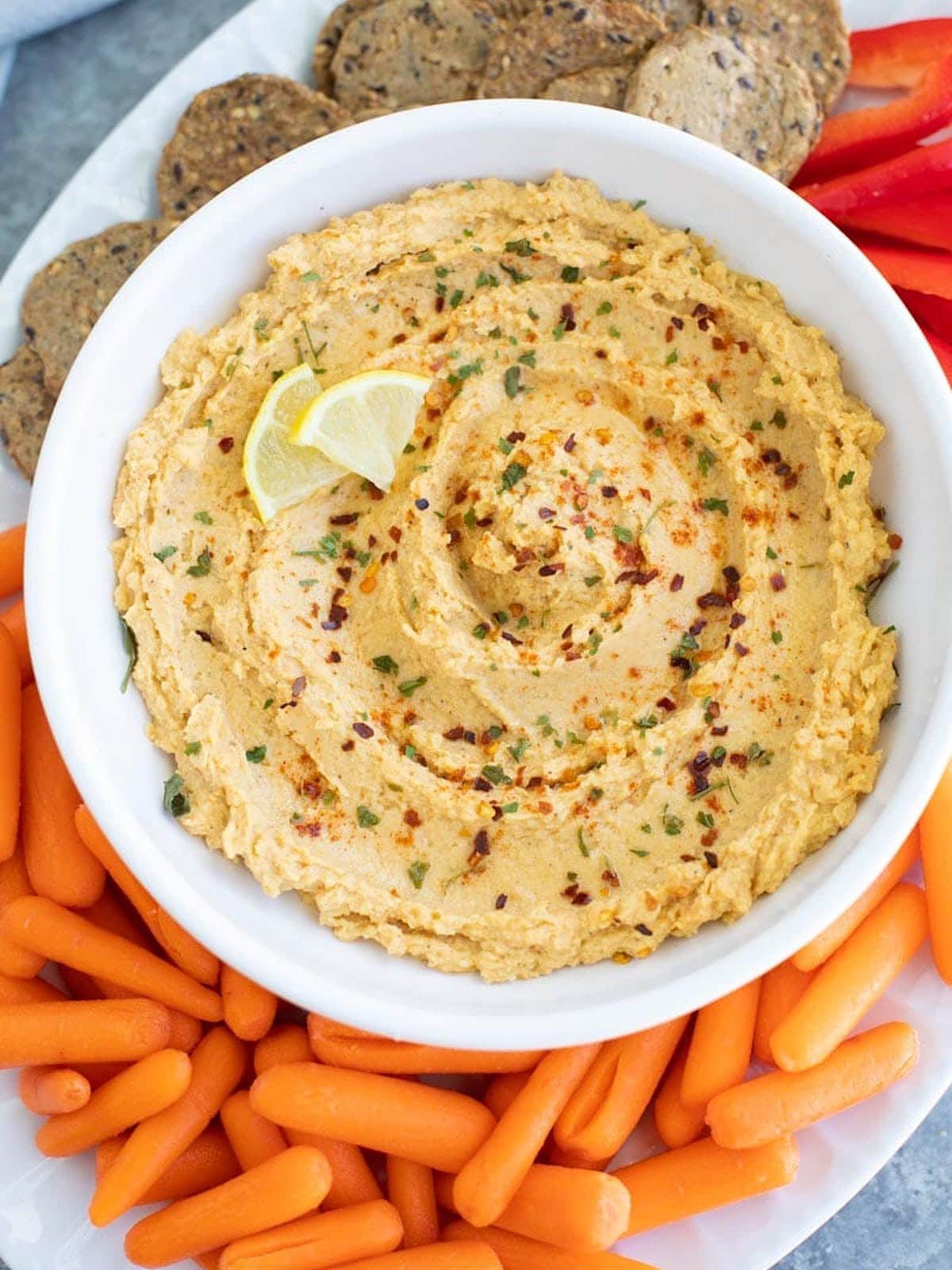 Stuffed Acorn Squash in the air fryer is quick to make for a fall dinner or side dish ! It's filled with a delicious quinoa stuffing along with kale, sage, pumpkin seeds and more. This dish will definitely impress guests at the holiday season.
Total Time: 55 minutes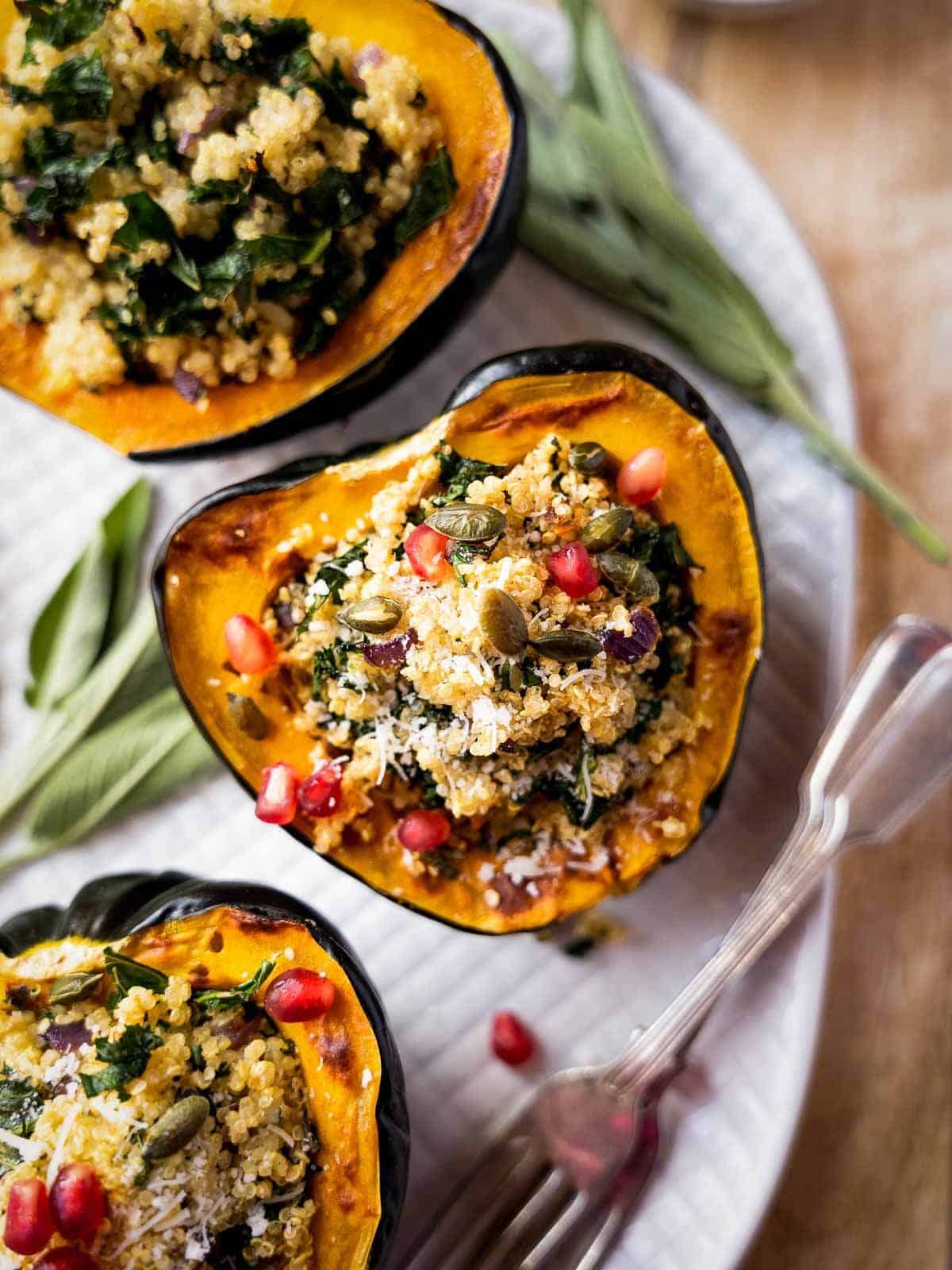 This easy roasted acorn squash recipe is a simple fall side dish with a sprinkle of spices!
Total Time: 45 minutes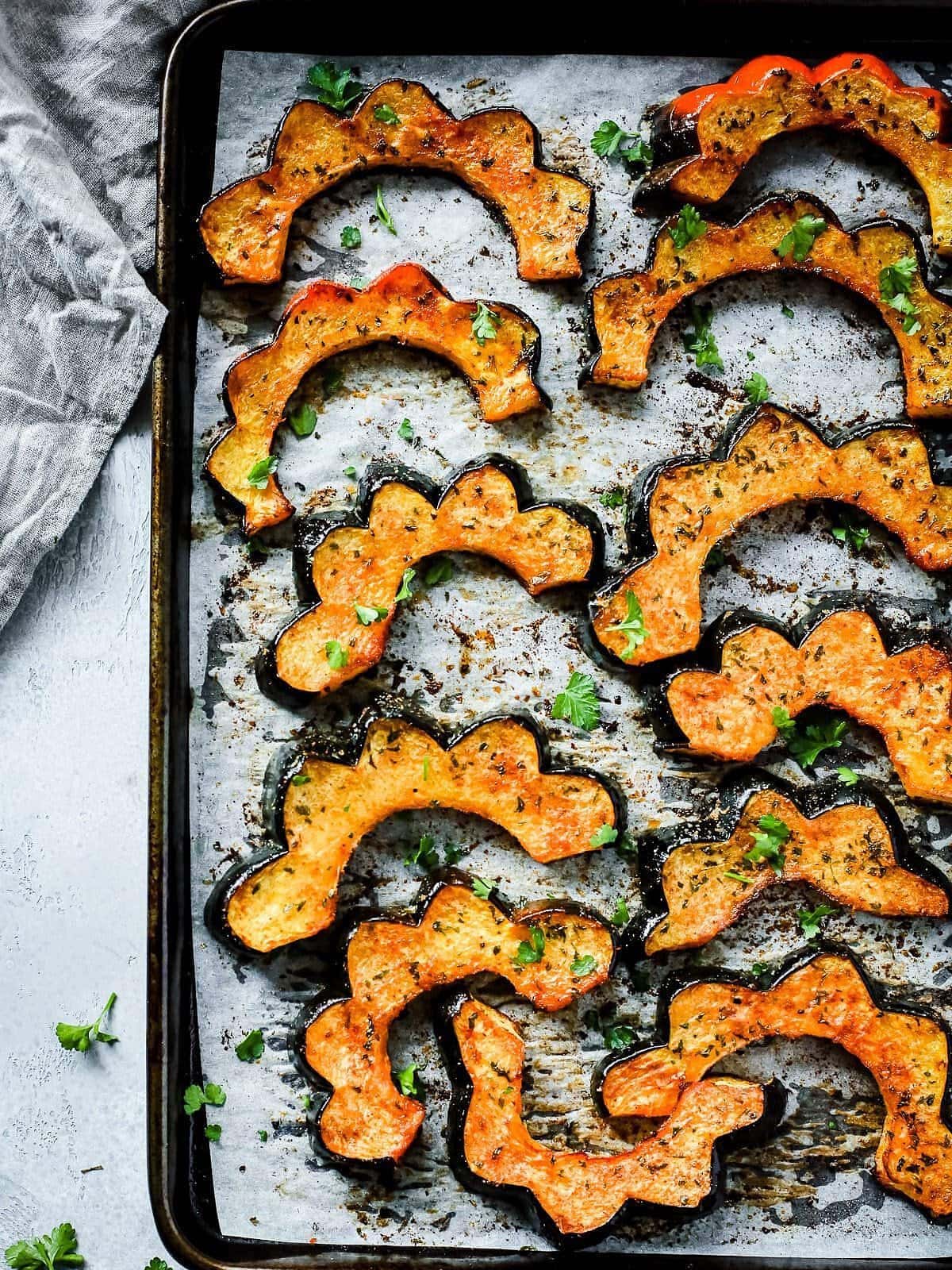 You will love this cozy Vegan Acorn Squash and White Bean Stew that is a quick weeknight meal. This is a one pot meal, so less dishes and easy to make!
Total Time: 30 minutes