These vegan raspberry muffins are so moist and packed with fresh raspberries for the perfect breakfast or snack! They are topped with a sweet, buttery crumb topping. I love to warm it up, spread some butter on top, and pair it with some coffee or tea in the morning.
Ingredients for Vegan Raspberry Muffins:
Batter:
Fresh raspberries
Plant-Based Milk: I used unsweetened soy milk.
Apple Cider Vinegar: to be used with the plant-based milk to make a buttermilk
Granulated Sugar
Baking Powder
Vanilla Extract
Salt
Streusel Topping:
Granulated Sugar
Vegan Butter (Cold)
FAQ:
Can I use frozen instead of fresh?
You can, but make sure you defrost and rinse them well before combining into your batter. If there's too much juice it will turn your muffins pink.
How long do these muffins last?
Store in air-tight container for 7 days in the fridge. You can freeze them for 3 months and heat up in the oven 375F to 12-15 min.
How do I know when my muffins are done baking?
The outside should be slightly browned. Stick a toothpick in the center and if it comes out clean your muffins are done!
Other tips:
Use cupcake liners! They will save you from possible sticking and they make it easier to store the muffins too until ready to eat.
Other muffin additions: lemon zest (if you want a little lemon/raspberry flavor!), nuts (chopped walnuts or pecans would be great in this recipe), or other berries (blueberries would be so delicious with the raspberries)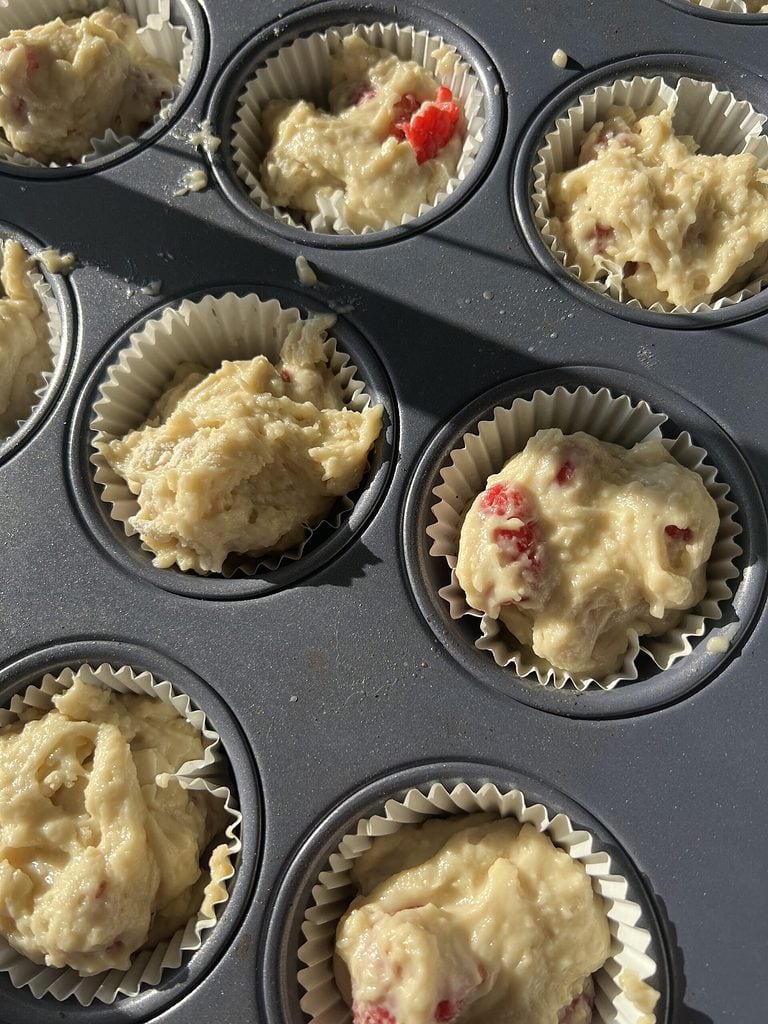 How to Make Vegan Raspberry Muffins (Quick Overview)
Start by making your vegan buttermilk (non-dairy milk + apple cider vinegar).
Make streusel topping and store in fridge.
Combine dry ingredients. Pour in wet and mix until combined.
Fold in raspberries.
Pour batter into cupcake liners. Top with streusel.
Bake in oven ~30 minutes.
Enjoy!
If you like this recipe, check out my other delicious muffins:u003cbru003e
u003cstrongu003eu003ca href=u0022https://naturallieplantbased.com/vegan-raspberry-muffins/u0022u003eChocolate Espresso Muffinsu003c/au003eu003c/strongu003e
If you've tried these Vegan Raspberry Muffins, please leave a rating and a comment!
Raspberry Muffins
Ingredients
Streusel Topping
3

tablespoon

Flour

¼

cup

Granulated sugar

2

tablespoon

Vegan butter (cold)
Instructions
Preheat oven to 375F.

Start by combining your plant-based milk and apple cider vinegar in a bowl. Stir and let sit for 5 minutes and it will begin to curdle (similar to buttermilk).

Make your streusel topping by mixing all the ingredients together and use a fork to u0022cutu0022 the butter into smaller pieces. Place in refrigerator.

Combine dry ingredients and then slowly pour in vegan buttermilk. Mix until combined and no clumps.

Gently fold in raspberries.

Line cupcake tin with cupcake liners. Pour batter equally into each tin.

Sprinkle each with streusel topping.

Bake 25-30 min until crumble topping is slightly browned and toothpick comes out clean.

Let cool for 10-15 minutes on a cooling rack before you remove the liner.

Enjoy with butter if desired.
Nutrition