This Crispy Asian Tofu Buddha Bowl is a healthy, delicious vegan lunch or dinner packed with flavor. Drizzle with a creamy sesame ginger dressing and you have one of the tastiest Buddha Bowls cooked in less than 15 minutes!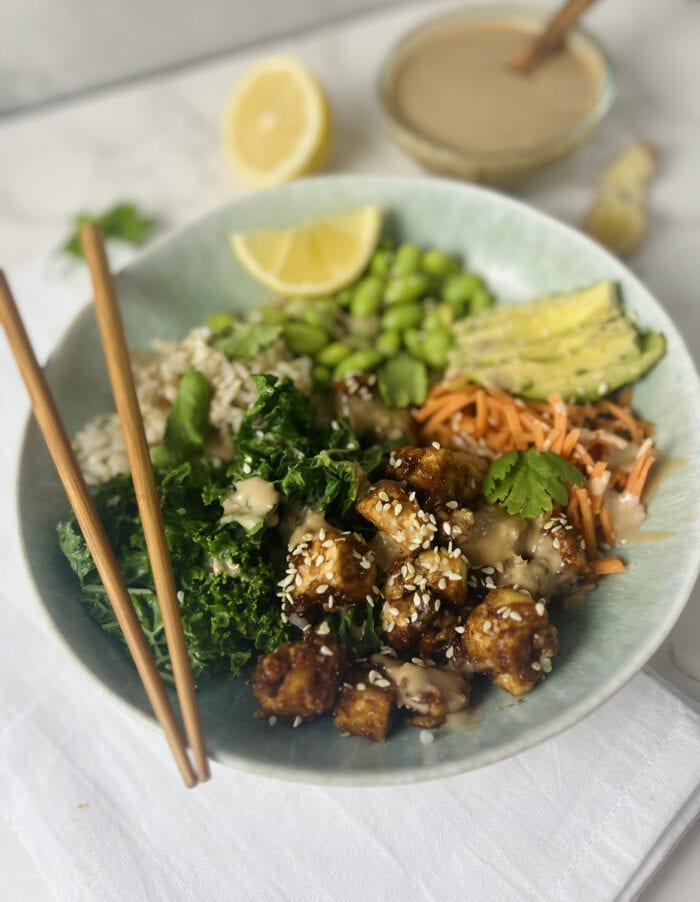 I have always loved buddha bowls and since I went vegan 6 years ago this has been one of my go-to meals. It's packed with so many healthy ingredients but it also tastes amazing! I know will love love this vegan buddha bowl as much as I do.
What is a Buddha Bowl?
A Buddha Bowl is a vegetarian meal served in a high-rimmed bowl with a beautifully plated display of various foods including grain, protein, vegetables, and more. It is thought to be named "Buddha" Bowl because of its balanced display of ingredients similar to a buddhist concept of a balanced life.
Are Buddha Bowls healthy?
Buddha Bowls are generally a healthy, balanced vegetarian or vegan meal. Many of the ingredients used in Buddha bowls have high nutritional value including grains (such as quinoa), protein (such as tofu), a variety of vegetables, and a delicious sauce with garnish. The more colors the healthier the Buddha bowl!
What is in this crispy asian tofu buddha bowl?
This buddha bowl contains lots of tasty, healthy ingredients!
Grain: Brown Rice
Protein: Extra Firm Tofu & Edamame
Sides: Avocado, shredded carrot, kale
Garnish: Sesame seeds, lemon, cilantro
Ingredients for Crispy Asian Tofu (Air Fryer)
Crispy Asian Tofu marinade contains simple ingredients but the sauce is so flavorful. See below about substitutions for gluten-free options.
Ingredients for Buddha Bowl
How do I make tofu crispy?
Follow these tips for crispy tofu:
Press your tofu for 30 minutes. Yes, truly 30 minutes. Don't skip this step. I made this recipe with tofu that was pressed for 10 min, 20 min, and 30 minutes and the 30 minute pressed tofu was by far the BEST!
How to Press Tofu: just get a dishcloth and wrap it around your block of tofu. Place on a plate and then a cutting board (or something flat) on top of the tofu. Then find something heavy (such as a 3-4 cans or a large book) and place on top of the cutting board. Make sure it's stable.
Use cornstarch: Not too much, not too little. This coats the tofu and helps the crispy texture.
How do I make Creamy Sesame Ginger Dressing?
Follow the recipe here to make this tasty sesame ginger dressing that pairs perfectly with this buddha bowl.
Can I meal prep this recipe?
This recipe is perfect for meal prep. Add the tofu buddha bowl ingredients in your compartmentalized glass container. Keep the sauce in a separate container. This recipe could make 4 meal prep lunches or dinners.
Do I need an air fryer to make this recipe?
The air fryer is helpful to make tofu but it is not necessary for crispy tofu. To make baked tofu in the oven follow this recipe here:
Press your tofu for 30 minutes and then cut into 1 inch pieces.
Preheat oven to 400F.
Coat in cornstarch and garlic powder mixture (see below for measurements).
On a lined baking sheet, arrange individual tofu pieces so they are not touching and will evenly bake.
Bake for 25-30 minutes and flip halfway through for the crispiest tofu.
Follow instructions below for addition of sauce after baking.
Substitutions:
Brown Rice
You could swap this out for white rice, quinoa, cauliflower rice, or wild rice mix.
Kale
Swap out the kale with another green like spinach, microgreens, romaine, etc.
Dressing
If you don't have the ingredients to make this Creamy Sesame Ginger Dressing (Vegan, DF) you can also make a delicious peanut sauce. You can also find pre-made peanut dressing at the grocery store like this one.
Make this bowl gluten-free
This bowl is almost gluten-free except for the soy sauce and hoisin sauce. Swap the soy sauce for tamari and use a Tamari Hoisin Sauce .
Why you'll love this tofu buddha bowl:
It's vegan with clean, healthy plant-based ingredients.
Easy meal prep for lunch or dinner.
The tofu is flavorful, crispy, and one of the best you will have!
This recipe is high protein from the tofu and edamame.
For other great Tofu recipes try out:
Crispy Asian Tofu Buddha Bowl (Air Fryer)
This easy asian tofu buddha is packed with flavor from the crispy asian tofu marinade and creamy sesame ginger dressing.
Ingredients
Crispy Asian Tofu
1

block extra firm tofu

3

tablespoon

cornstarch

1

teaspoon

garlic powder
Asian Sauce
2

tablespoon

hoisin sauce

1.5

tablespoon

soy sauce

2

cloves

minced garlic

1

teaspoon

minced ginger

2

teaspoon

rice vinegar
Buddha Bowl
4

cups

cooked brown rice

=1.5 cups uncooked

2

cups

edamame

shelled, I purchased mine frozen

1.5

cups

carrot

shredded

1

avocado

4

cups

chopped kale + ½ lemon

massaged together*
Optional toppings
Sesame seeds

Lemon Slice

Cilantro
Instructions
Cut your tofu into 1 inch cubes. Place in a gallon size bag with cornstarch and garlic powder. Gently shake until coated.

Cook tofu in air fryer at 400F for 5 minutes, shake gently, then air fry for another 5-6 minutes until lightly browned and crispy.

Whisk your tofu sauce ingredients together and prep your other buddha bowl sides (cook brown rice, chop kale, shred carrot, etc).

In a medium size saucepan over low-medium heat, add in crispy tofu with asian sauce and mix well until tofu is evenly coated.

Sauté for 2-3 minutes until sauce caramelizes.

Arrange buddha bowl with brown rice, massaged lemon kale, shredded carrot, edamame, avocado, and crispy asian tofu.

Drizzle with creamy ginger sauce and sprinkled with sesame seeds, cilantro, and fresh lemon if desired.

Enjoy!
Notes
How to Massage Kale
First, make sure there are no stems in your chopped kale. In a large bowl add your kale and ½ lemon juice. Gently massage the kale pieces for 1-2 minutes until kale becomes tender and less stiff. Your kale will taste so much better when it's massaged!
How to Press Tofu
Just get a dishcloth and wrap it around your block of tofu. Place on a plate and then a cutting board (or something flat) on top of the tofu. Then find something heavy (such as a 3-4 cans or a large book) and place on top of the cutting board. Make sure it's stable. Press for tofu for about 30 minutes for best results.
Nutrition
Calories:
583
kcal
Carbohydrates:
90
g
Protein:
24
g
Fat:
15
g
Saturated Fat:
2
g
Polyunsaturated Fat:
3
g
Monounsaturated Fat:
6
g
Cholesterol:
0.2
mg
Sodium:
645
mg
Potassium:
1345
mg
Fiber:
15
g
Sugar:
8
g
Vitamin A:
14786
IU
Vitamin C:
71
mg
Calcium:
315
mg
Iron:
6
mg